The Annika Skoogh Quartet: Doors open 7.30pm – Concert from 8pm
Tickets £10 on line – £12 on the door.
Cons £5 – students/unwaged/income support.
The Annika Skoogh Quartet are an exciting project and led by multilingual Swedish singer Annika Skoogh. Annika is making a name for herself on the jazz scene as a vibrant and soulful singer with a natural talent and she brings a special blend of Scandinavian charm and Latin flavour to her performances in her own playful style.
Her band's music is fresh interpretations of timeless jazz standards, materials by other composers and original compositions boldly arranged in their own unique way. Annika's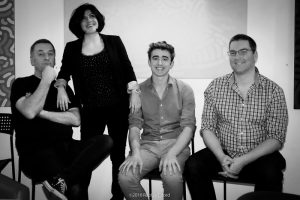 ensemble of highly accomplished musicians and some of the finest are – Tom Berge (keys), Al Swainger (bass) and Coach York (drums) and they provide the perfect anchor for her assured vocals. The band have been busy recording their first debut album which will be available to purchase at their performance on Friday 28th September at the Creative Innovation Centre.  This promises to be a great evening so don't miss this opportunity to catch the Quartet live.

Venue Phone: 01823 337477
Venue Website: http://www.creativeinnovationcentre.co.uk/
Address:
CICCIC, Memorial Hall,, Paul Street, Taunton, Somerset, TA1 3PF, United Kingdom
Description:

Creative Innovation Centre CIC, Memorial Hall, Paul Street, Taunton, Somerset, TA1 3PF, is conveniently located in Taunton Town Cente with a multi-storey car park just metres away and another single storey car park just 2 minutes away. Marks & Spencer's car park is next door to us but can get busy. We have our own cafe bar and sell refreshments to help support fund raising for our Community Interest Company.
Annika Skoogh Quartet
September 28, 2018
8:00 pm - 11:00 pm
You may be interested
Community Events
536 views