The Helters plus support acts Yellow Wednesdays + Sunset Sundays
Doors open at 7:30pm. Start 8:00pm.
Tickets £10 doors /£8 online.
A cracking 5-piece band from Wellington,
consisting of:
Mark Owen – lead vocal
Davey Roberts – lead guitar and vocal
Conor Dolan – bass guitar
Alex Canham – Rhythm Guitar
Charlie Last – Drums
The Helters have been together for nearly two years now and released their first EP in August last year which is available on most music platforms, with over 9000 streams on Spotify now. Previous gigs include a very successful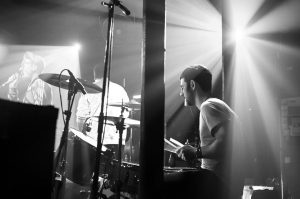 charity gig at Wellington School which sold out (nearly 200 tickets), a couple of appearances at the Cobblestones in Bridgwater, one of which they had hosted and most recently The Fleece in Bristol.
The Helters have a wide range of influences varying from Oasis to the Smashing Pumpkins but adding their own unique sound into their music. The Helters are looking forward to 2018 with a few exciting things lined up in the pipeline.
Find them on Facebook and as previously mentioned their EP is available on Spotify, iTunes etc
Venue Phone: 01823 337477
Venue Website: http://www.creativeinnovationcentre.co.uk/
Address:
CICCIC, Memorial Hall,, Paul Street, Taunton, Somerset, TA1 3PF, United Kingdom
Description:

Creative Innovation Centre CIC, Memorial Hall, Paul Street, Taunton, Somerset, TA1 3PF, is conveniently located in Taunton Town Cente with a multi-storey car park just metres away and another single storey car park just 2 minutes away. Marks & Spencer's car park is next door to us but can get busy. We have our own cafe bar and sell refreshments to help support fund raising for our Community Interest Company.
The Helters
April 13, 2018
7:30 pm - 11:55 pm
You may be interested
Community Events
268 views
News
140 views
Taunton Entertainment Survey 2017
admin ciccic
-
July 18, 2018
Between Nov 2016-Nov 2017, Creative Innovation Centre CIC (CICCIC), with the support of Taunton Deane Borough Council, surveyed the community…