Anniversary Art Fair 6th March – 2nd April 2017
A celebratory Exhibition Art Fair will be held from the 6th March – 2nd April 2017
There will be a 'public' view on the 10th March 2017, 5pm – 9pm where all is welcome to have the opportunity to meet some of the artists. There will also be live music from lute duo Ricercare (Brian Sharman & Martin Baxter) and Southern Belle. Workshops including Tai Chi, talks, stalls and displays and a café & bar as well as network with other businesses that will also be present.
ALSO 10th March – Showcase Event which includes:
Live Music:
Ricercare
Southern Belle
Demonstrations & Workshops:
Chinese Calligraphy
Tai Chi Workshop
Streetlinkz Hoops & Juggling
Films
Talks
and more…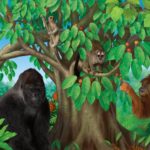 The Art Fair is to celebrate the 10th Anniversary of Sumo55 – Multi Media Web Design. Su Mo, the director of Sumo55 will be curating the exhibition based on invitation of her clients to have the opportunity to exhibit their work together in one space. Sumo55 offers a range of services from developing an online presence with websites to design for print supporting clients in the creative industry; her range of clients include artists, potters, sculptures, musicians as well as small businesses such as alternative therapists to nursing homes in Somerset.


Artists in the exhibition include bead knitting designs created by the artist Jan Truman on her favourite 1970's knitting machine.
Jan Truman


"The distinctive ' jewel-like' quality of my work is created on an old knitting machine, using a traditional process known as 'Bead-knitting'.  Each handmade original starts life as a single strand of coloured wire, pre- threaded with beads, which I knit into shapes. Gradually as the individual glass beads link to form the structure, its surface is transformed with a colour-rich texture that shimmers in the light".      –  Jan Truman
Alce Harfield


A professional artist for over 25 years, Self representing artist Alce Harfield exhibits her wonderful contemporary acrylic canvases across the country at a variety of Art fairs, from Edinburgh, Leeds and Sheffield to Windsor, Reading and London.
Keen to maintain a connection with her customers Alce is committed to keeping her work fresh and exciting, continuing to develop her style with experiments into resins and & 'glow in the dark' pigments.
Philip Ledbury
"I have been painting for a long time, started painting as a form of therapy just over twelve years ago when diagnosed with leukaemia, The NHS and my art have given me my longevity, at the onset I was a prolific painter as the years go on I'm painting less as I'm spending more time fighting my illness's.
I am a lover of colour; I have tried most mediums but prefer oil paints. I also like experimenting. My love is abstracts but I'm told on good authority that I will be remembered for my heart pictures, I painted a picture for an exhibition of hearts as a tribute to my friends." – Philip Ledbury