Surrounded by Sound – An amazing 360 Sound Experience – Thurs 10th March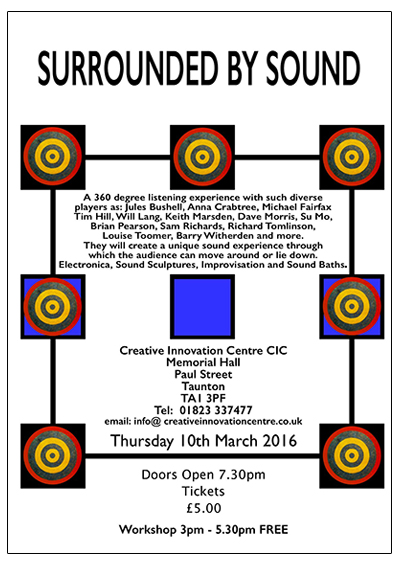 Evening performance Thurs 10th March 7.30pm. £5. Workshop at 3pm and free.
Surrounded by Sound is a day's workshop and an evening performance of purely free improvised live music, visuals, sound and choreography with a group of experienced musicians and artists some of which have not worked together before.
The event will hold custom built musical & sound instruments; some will be acoustic and some electronic. The instruments themselves, sound reactive moving image projection and dance will fill your sight senses whilst listening to the sounds of the unexpected!
There will be no stage or audience barrier. Join and sit with us, walk around, lie down, be as you wish to absorb the sights and sounds around you.
The day workshop lets you try out instruments as well as bring your own acoustic instruments and sound makers, to see what you can create together.
For the workshop simply come along but for evening event please purchase ticket below or pay on the door on the night.