4 weeks Lino-cut print course Wed 6-9pm 11th, 18th, 25th July and 1st August
( £60 for the 4 week course, includes professional tutor, basic set of lino cutting materials and development of at least 3 original prints to take home)
'students who cannot attend all 4 weeks will be given an alternative project that will enable them to gain experience of all stages of the print process in the time available to them'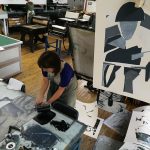 Introduction
Edward Bawden was one of the most exciting artists and designers of the 20th Century, as
the current exhibition at Dulwich Picture Gallery demonstrates. In this 4 week workshop we will take a closer look at the prints of Edward Bawden, examining images in terms of
composition, colour and visual language, and identify the reasons why his work is so
dynamic. Using our findings as a criteria with which to make new work, we will then design and carve our own lino-cut prints. Far from producing derivative work, students of this workshop will have opportunity to marry up art appreciation with new ideas, to make work that is bold, imaginative and exciting.
Course Outline:
Week 1: Looking at Edward Bawden – presentation through video, discussion and drawing
Week 2: Designing our images + transferring to A5 lino
Week 3: Carving and printing 1st colour
Week 4: Carving and printing 2nd colour, or experimenting with colours and papers with one colour prints
Students will be able to take home their own original print edition of 3 x A6 prints.


  
'The Chain Gang', linocut print on paper, 2014 (exhibited at the 2015 Royal Academy Summer Exhibition)
Who's It For:
Anyone who wants to learn or develop key drawing and linocut printing skills, develop art
appreciation and a greater knowledge of one of Britain's most important 20th Century artists.
What you need to bring:
A sketchbook and drawing materials and an apron. Basic lino-cutting materials will be provided (enough to make 3 prints). Additional materials will be available for sale at cost price.
About the Tutor
Lisa Takahashi is a practicing artist, arts writer and art teacher. Her work has been exhibited at the Royal Academy Summer Exhibition, The New English Art Club, the Royal Society of Painter-Printmakers, the Royal Society of British Artists and the Royal Watercolour Society.She also writes articles about making art for the Jackson's Art Blog.
She has over 12 years' experience of teaching art workshops for adults, including courses at The Affordable Art Fair, Spike Print Studio, and The Grenville School of Painting. At the core of Lisa's work is a firm belief that in order to unlock the creative spirit of any individual the work needs to be enjoyable – as a result her approach is always relaxed and friendly.
There are no upcoming dates for this event.