Neighbourhood Cinema movie night at CICCIC with "Blade Runner" 7.00pm.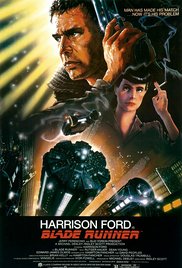 Ridley Scott's seminal sci-fi movie that set the bar for the genre is due a sequel "Blade Runner 2049" scheduled for release on 6th October 2017. Hence our showing this classic from 1982. The film was released with a voice over by Harrisson Ford after test audiences found it hard to distinguish Human from Replicant and the film was later released as a Directors Cut with that removed and small scenes restored. The debate over whether Deckard was a replicant has raged since the films release!
Storyline:
In the futuristic year of 2019, Los Angeles has become a dark and depressing metropolis, filled with urban decay. Rick Deckard, an ex-cop, an ex "Blade Runner". Blade runners are people assigned to assassinate "replicants". The replicants are androids that look like real human beings. When six replicants commit a bloody mutiny on an Off World colony, they return to earth to find their maker. Deckard is called out of retirement to track down the androids and eliminate them.

1 Hr 57 min
 Drama, sci fi
1982
certificate 15
Seating at CICCIC: We have sofas, arm chairs and normal chairs. Soon you will be able to reserve a seat but at this time seating is provided on a first come, first serve basis.
Watch the Trailer



Why Watch Movies at CICCIC

If you love going to the movies but adore a homely atmosphere, perhaps even a beer or glass of wine then Creative Innovation Centre's Community Cinema programme will bring a fresh new approach to local movie watching.
Registered as a community cinema in Paul Street, Taunton, the independent flexibility of screening films for audience numbers of up to 60 means an intimate setting for a great movie night out.

Andrew Knutt, director at CICCIC said "Movie goers can lounge in our sofas, grab a drink at the bar, even nominate movies for us to screen and even hire private movie screenings."
CICCIC is a registered Neighbourhood Cinema with the British Film Institute No. 000921 and a member of Cinema for All.

There are no upcoming dates for this event.