Open Air concert at Poundisford Lodge, Nr Pitminster, Taunton TA3 7AE by "Talinka"
 Doors open 7pm – Concert starts 7.30pm.  Tickets on line £10 – £12 on the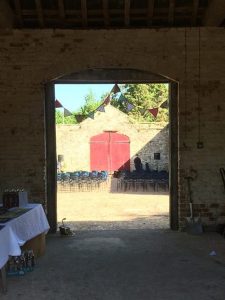 door.
Concessions £8 – students, unwaged/income support.
The most talked about gig last year, Talinka bring their amazing skills to Poundisford Lodge this July  for an open air concert in the atmospheric courtyard of this old hunting lodge.
CICCIC is excited to present the Talinka Quartet, led by Israeli actress and singer Tali Atzmon. Their mixture of jazz and a variety of different styles of music weaves a considerable spell. Jazz gets everywhere; and because it doesn't have any closed doors, forms and instruments both new and old find their way into jazz. The possibilities are endless, extending in every direction. The Talinka Quartet needs no instruction in that.

"Talinka is a music-loving adventure. For us, the love of music extends beyond style and
genre. We blend folk, early music, jazz, tango and free improvisation.  We believe in songs and beauty being vital forces of nature. We adhere to simplicity, harmony and warmth.  We hope you'll enjoy our debut album as much as we enjoyed giving birth to it." – Talinka
Band Members:
Vocals – Tali Atzmon
Viola da Gamba, Flute, Baroque Violin & Vocals – Jenny Bliss
Double Bass – Yaron Stavi
Bass Clarinet, Soprano Sax & Accordion – Gilad Atzmon
There are no upcoming dates for this event.