Doors 7.30pm. Starts 8.30pm. Adv Tickets £12. OTD £14.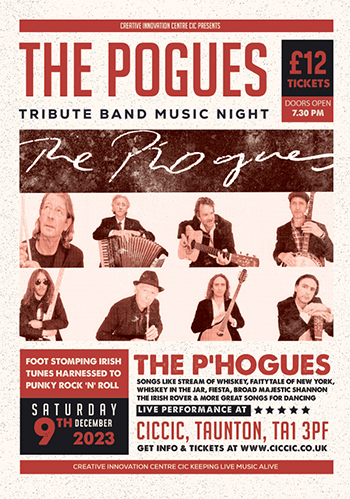 Join us for a right old Christmas knees up and raucous Irish punk and rock n roll music night with Britain's best Pogues tribute band The P'Hogues.
In the early 1980s, a gang of unlikely musicians came together in London to play the sounds that visionary singer/songwriter Shane MacGowan had in his head. Traditional Irish tunes, harnessed to a punky rock n'roll beat and featuring some of the finest lyrics written that decade, or any decade for that matter.
The band was The Pogues, and for the next 25 years they sang and drank their way across the world in a career that spanned downbeat Irish bars to the biggest stages on the planet. Most famously, they gifted music the best Christmas song ever, in the form of 'Fairytale of New York'. But that was far from the whole story…..
Today, The Pogues are all but defunct. Death, illness and emigration has taken its toll. But their raucous spirit lives on in the form of The P'Hogues, Britain's best Pogues tribute band, who faithfully recreate, in sight and sound, this unique act and its array of fabulous, wild and heart-warming songs.
The P'hogues formed in Somerset in early 2019 and under the leadership of guitarist Jesse Thorogood, have evolved into a spot-on recreation of 'the boys from the County Hell'. This eight-piece band covers the classic years of The Pogues, from the rough-and-tumble 'Streams of Whiskey' 'Irish Rover' and 'Sally McLennane' to a raft of great tunes from 'If I Should Fall From Grace With God', arguably the band's best album. And yes, The P'Hogues always play 'Fairytale…', even when the summer sun is out and the temperature is off the scale!
The P'Hogues are the perfect post-pandemic party band, an excellent antidote to the months of misery we've all endured. They're guaranteed to rock and reel CICCIC, helping the crowd to remember what a proper UK music event is all about – having a drink, having the craic and rocking along to great sounds.
The P'Hogues:
Thomas Burmester: Banjo
John Clist: Accordion
James Hale: Bass
Tom Henry: Vocals
Mike Highfield: Tin whistle/bagpipe/percussion
Ciaran Kirby: Mandolin/bouzouki
Ben S-B: Drums
Jesse Thorogood: Guitar/vocals.
BOOK TICKETS