Doors 7.30pm. Start 8.00pm. Adv ticket £12. OTD ticket £14.
Join us for an amazing night of traditional Arabic, Kurdish, Turkish & Middle Eastern music coupled with gypsy, latin, & flamenco music.
This exclusive live music event offers you the opportunity to experience two seperate music sets with the amazing talents of Qushma Ensemble & Mark Barnwell.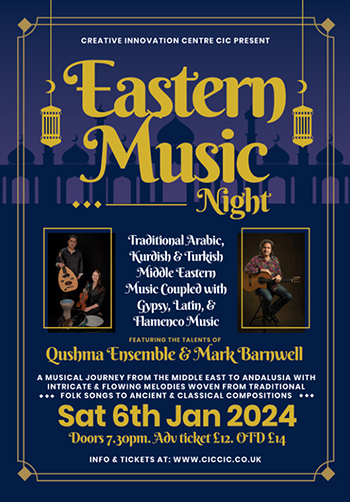 About Qushma Ensemble
Qushma is a duo from Somerset that plays traditional Kurdish, Arabic & Turkish Middle Eastern music. Qutob Daoud and EmmaLucy Cole together combine the sounds of oud, buzuq, violin and frame drums, creating intricate and flowing melodies that weave from traditional folk songs to ancient classical compositions.
About Mark Barnwell
Cornwall based Spanish guitarist Mark Barnwell will be playing a mix of Flamenco, Latin, Eastern and Gypsy Jazz inspired guitar music, including solo pieces and live looping. Passion, grace and fire in equal measures.
BOOK TICKETS