Comedy Classics screening of 70's stand-up TV show 'The Comedians' – Free for Taunton Foodbank Donation* – Mon 12 Dec
Join us anytime Mon 12th Dec 7.30pm – 11.00pm. Free entry if you bring donation for Taunton Foodbank* or just £3pp.
Come along to CICCIC and see two amazing classic comedy stand-up shows and experience why its so good to laugh with other people while enjoying drinks from our licensed bar. Plus with many classic comedians from the past on our big screen you'll be in stitches in no time.
About this 'Live Comedy Standup' Screening
Compilation of clips containing the best moments from series one of the quickfire stand-up comedy show The Comedians, with routines that were honed to perfection in the hard-knock territory of Northern working men's clubs. Frank Carson, Charlie Williams, Bernard Manning, Colin Crompton and Ken Goodwin and many more all became masters of the one-liner and the knowing wink.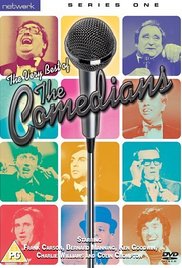 Please note that this was made in the days before political correctness. This whole programme would today be reviewed and virtually dismantled with some of the material banned from the airways as some jokes would be deemed to be offensive to someone. Yet it reminds us of when people were much more innocent, and they laughed at the silliness of the jokes, not the so-called victims. When you see a black man like Josh White telling daft black jokes, it becomes a leveller. Same for the Irish comedians like Frank Carson. When people are laughing together at the same thing, there is suddenly no room for fear and hatred. The comedians on here may be clowns but they're not fools. Both they and the audience know that the jokes are silly nonsense and exaggerated.
Pay on the door.
* Jam, Tinned Puddings; UHT Milk; Fruit Juice; Tinned Fruit; Tinned Meat & Teabags only.