Film Club screenings for August- September 2017
Film Club screenings for August- September 2017
There are any number of cinema clubs around these days, thankfully, so what to program is always food for thought. What to show and when to show it. The films chosen for this year were chosen for a number of reasons and hopefully will appeal to you and encourage you to come regularly in future.
Film nights are now fixed at 7pm start on a Sunday night and our programme will run fortnightly.
Any film over two hours in length will have a 15 minute interval at a pertinent point.
Birdman or (The Unexpected virtue of ignorance) starts a run of films from the acclaimed Alejandro G. Iñárritu whose film making was finally rewarded by a Best Picture Oscar for The Revenant. This film shot almost entirely on location in a New York theatre follows an aging actor returning to the spotlight again, having stopped playing the superhero role of Birdman many years before. As the lead actor, writer and director of the new stage show, the pressure of the task and the burden of his previous movie persona put an excellent Michael Keaton through the ringer as the first night approaches. With recent Oscar winner Emma Stone and Edward Norton. (Birdman 13th August)
Amor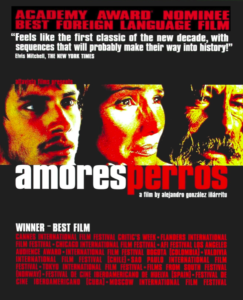 es Peros is the debut feature from Oscar winning director Alejandro González Iñárritu a savagely brilliant canine themed triptych. One of Mark Kermode's favourite films, it also introduced the actor Gael García Bernal to the world! As with many early Iñárritu films it weaves three stories together, in this case by a car accident that touches characters in each of the three stories. It is a powerful film that deserves a wide audience. The title translates as Love is a bitch! (Amores Peros 27th August)
Babel again takes three connected stories this time linked by a hunting rifle, and plays out in Japan, North America and North Africa. The film starts with the accidental shooting of an American tourist out in the deserts of Morocco and the fight to get her to hospital from a small village in the middle of nowhere with little communication with the outside world. The second story follows the couples housekeeper who takes their children across the Mexican border to her son's wedding only to run into trouble on the way back. And the third tale concerns the Japanese businessman, who originally gave the hunting rifle to a Moroccan villager as a gift of gratitude, and his relationship with his daughter, broken since the death of his wife. It is one of my favourite films, rich is story with a beautiful soundtrack and a cleverly woven narrative. (Babel 10th Sept)
Blade Runner made in 1982 by Ridley Scott, this film raised the bar for film set in the future and its influence can be seen in countless films made since. A beautiful soundtrack from Vangelis and starring Harrison Ford and Rutger Hauer. The story of a policeman (blade runner) tasked with finding six replicants who stole a ship and have returned to earth seeking their creator in the hope of extending their lives. Replicants are human like androids built to work on off world colonies with a built in life span of four years. The film was based on a short story by Phillip K Dick – Do Androids Dream of Electric Sheep. The androids are given artificial memories and because they begin to develop emotional responses to their surroundings, they are given a life span of four years. The debate about Harrison's central character and whether he is human or android has kept people busy since the film's release and Ridley Scott the director released the film in Directors Cut form in 1992 in part to add to that debate. Whether you think him human or not is a sub plot in a visually stunning futurist landscape that has been copied by numerous films since. And this year sees a sequel starring Ryan Gosling – Blade Runner 2049 – due for release here in October 2017. (Blade Runner 24th September)
Should you have any comment concerning our programming or a particual film you would like to see please email me on mark@ciccic.co.uk
Mark Bond
Creative Innovation Centre Manager.