Jazz Night Fri 13th May with Smooth Latin, Funk & Modern Jazz by Monkeys Uncle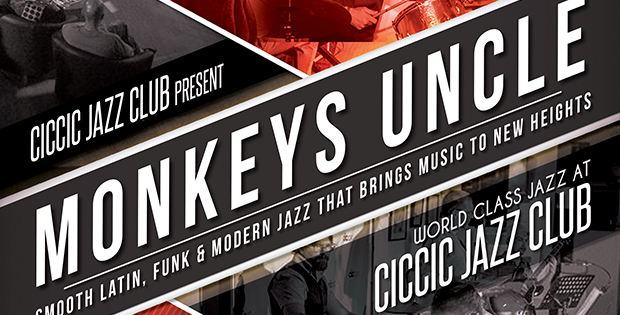 Friday 13th May 7.30pm-11:00pm. £8.00 or £7.00 concession if booked online, or £10 on the door with £9 concession.
Join us for amazing night of jazz with some of the best Jazz artists in the UK under the guise of jazz band Monkeys Uncle and music programmer and director Andrew Knutt says "This has got to be one of my favourite jazz bands and I highly recommend seeing this creative band live." Plus during there last visit one visitor even wrote in with a review – click here to read.
About Monkeys Uncle
Monkey's Uncle are a 5 piece band performing original modern jazz combining elements of swing, latin & funk with modern jazz / rock harmony & groove. You'll enjoy some excellent instrument playing as well as some great jazz grooves to keep you focused on simple yet complex moments of pure jazz. A night not to be missed.
Al Swainger – Bass
Al is an upright & electric bassist and composer. To call his tastes eclectic would be an understatement. Currently working with Digby Fairweather's Half Dozen, The Annika Skoogh Quartet, Grice, Snow Giants and his own experimental composition project Pointless Beauty, he covers ground from traditional jazz to modern, art & progressive rock to fully improvised soundsculpture. Along with Jesse Al was responsible for roughly half of the initial gigging repertoire for the band.
Jesse Molins – Guitar
Jesse has developed a sophisticated style studying and working throughout the Southwest, London & Bristol. A naturally emotive composer Jesse makes a major contribution to the signature Monkey's Uncle sound and provided roughly half of the initial gigging repertoire for the band. Currently a member of the Dave Hankin Big Band and Mike Westbrook Big Band he also runs his own Quartet as well as being heavily in demand for touring productions.
George Cooper – Keys
George is a vibrant, exciting young jazz pianist, composer and arranger who has already cemented his reputation within the music industry, working in Hollywood with composer Hans Zimmer, orchestrating jazz for Nigel Kennedy and the London Philharmonic and as well as playing alongside some of the most highly acclaimed Jazz stars in the UK and Europe. As a composer he has written music for several award-winning films as well as his own George Cooper Trio.
Ottone Caretta – Sax
Otto has a natural affinity for the saxophone. He plays lyrically and emotionally and seemingly without effort. An essential part of Monkey's Uncle from the beginning Otto's contribution is always exactly what is required – no more and no less. Having studied with Maurizio Caldura, Robert Bonisolo, Steve Lacy, Dave Liebman and Joe Lovano over the years this should perhaps not be a surprise. Since moving to Oxford in 2006 he has worked regularly with local big bands such as Cutting Edge , Blakes Heaven, and Big Colours. He is currently teaching and plays in-and-around Oxford and London with Thixotropy, My Groove Your Move, and Funk Bake.
Gary Evans – Drums
Gary began gigging hard from an early age. Working his way through function bands, big bands, pop groups, cruise ships and theatre pits he has also studied at the Musicians Institute in London. His sheer versatility has made him a regular collaborator on innumerable projects and guarantees him a position as one of the busiest musicians in the area.
An Event with an ID of "7681" could not be found. Please contact the event administrator for assistance.