Movie Night – Mr. Holmes – Thurs 22nd Sept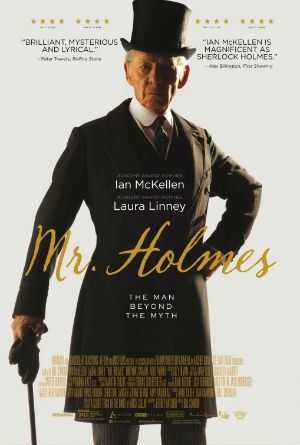 Neighbourhood Cinema movie night at CICCIC with drama, mystery 'Mr. Holmes'. 7.30pm.
An aged, retired Sherlock Holmes deals with early dementia as he tries to remember both his final case and a mysterious woman whose memory haunts him. He also befriends a fan, the young son of his housekeeper, who wants him to work again.
Certificate: PG
134 min
Drama, Mystery
Seating at CICCIC: We have sofas, arm chairs and normal chairs. Soon you will be able to reserve a seat but at this time seating is provided on a first come, first serve basis.
Watch the Trailer
Why Watch Movies at CICCIC
If you love going to the movies but adore a homely atmosphere, perhaps even a beer or glass of wine then Creative Innovation Centre's Community Cinema programme will bring a fresh new approach to local movie watching.
Registered as a community cinema in Paul Street, Taunton, the independent flexibility of screening films for audience numbers of up to 60 means an intimate setting for a great movie night out.

Andrew Knutt, director at CICCIC said "Movie goers can lounge in our sofas, grab a drink at the bar, even nominate movies for us to screen and even hire private movie screenings."
CICCIC is a registered Neighbourhood Cinema with the British Film Institute No. 000921 and a member of Cinema for All.
An Event with an ID of "8349" could not be found. Please contact the event administrator for assistance.