Movie Night – The Divide – This Movie has been cancelled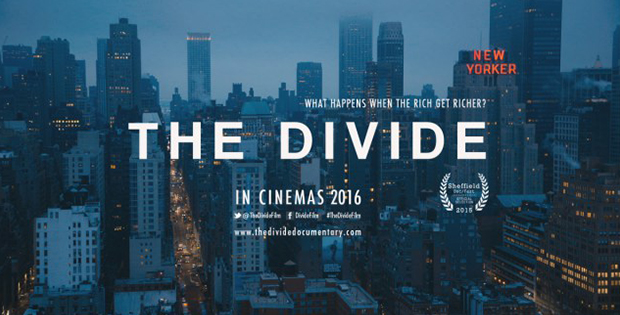 THIS SCREENING HAS BEEN CANCELLED.
Neighbourhood Cinema movie night at CICCIC with documentary 'The Divide'. 7.30pm.

The Divide tells the story of 7 individuals striving for a better life in modern day US and UK – where the top 0.1% owns as much wealth as the bottom 90%. By plotting these tales together, we uncover how virtually every aspect of our lives is controlled by one factor: the size of the gap between rich and poor.
The film is inspired by "The Spirit Level" by Richard Wilkinson and Kate Pickett.
Certificate: PG
78 min
Documentary
Seating at CICCIC: We have sofas, arm chairs and normal chairs. Soon you will be able to reserve a seat but at this time seating is provided on a first come, first serve basis.
Watch the Trailer
Why Watch Movies at CICCIC
If you love going to the movies but adore a homely atmosphere, perhaps even a beer or glass of wine then Creative Innovation Centre's Community Cinema programme will bring a fresh new approach to local movie watching.
Registered as a community cinema in Paul Street, Taunton, the independent flexibility of screening films for audience numbers of up to 60 means an intimate setting for a great movie night out.

Andrew Knutt, director at CICCIC said "Movie goers can lounge in our sofas, grab a drink at the bar, even nominate movies for us to screen and even hire private movie screenings."
CICCIC is a registered Neighbourhood Cinema with the British Film Institute No. 000921 and a member of Cinema for All.