Movie Night – The Hateful Eight – Sun 26th June

Neighbourhood Cinema movie night at CICCIC with crime, drama, mystery film 'The Hateful Eight'. 7.00pm.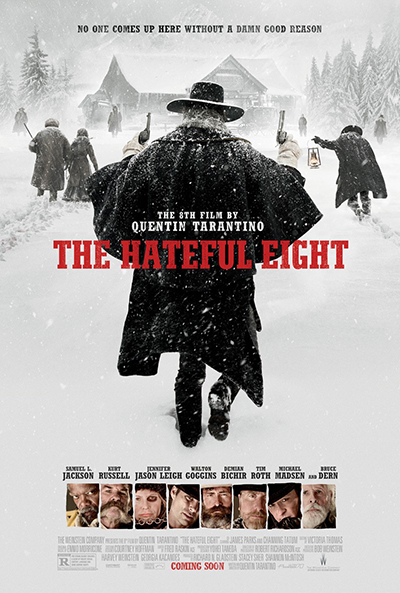 While racing toward the town of Red Rock in post-Civil War Wyoming, bounty hunter John "The Hangman" Ruth (Kurt Russell) and his fugitive prisoner (Jennifer Jason Leigh) encounter another bounty hunter (Samuel L. Jackson) and a man who claims to be a sheriff. Hoping to find shelter from a blizzard, the group travels to a stagecoach stopover located on a mountain pass. Greeted there by four strangers, the eight travelers soon learn that they may not make it to their destination after all.
"A blood-splattered murder mystery in 19th-century Wyoming is the notional plot for Tarantino's swaggering off-message and old-fashioned three-hour masterpiece." Peter Bradshaw, The Guardian
"It crams hair-trigger racial tensions into an otherwise neutral outpost, where a mixed bag of gunslingers uneasily try to make nice during a blizzard" Peter Debruge, Variety
Certificate: 15
187 min
Crime, drama, mystery
Seating at CICCIC: We have sofas, arm chairs and normal chairs. Soon you will be able to reserve a seat but at this time seating is provided on a first come, first serve basis.
Watch the Trailer
Why Watch Movies at CICCIC
If you love going to the movies but adore a homely atmosphere, perhaps even a beer or glass of wine then Creative Innovation Centre's Community Cinema programme will bring a fresh new approach to local movie watching.
Registered as a community cinema in Paul Street, Taunton, the independent flexibility of screening films for audience numbers of up to 60 means an intimate setting for a great movie night out.

Andrew Knutt, director at CICCIC said "Movie goers can lounge in our sofas, grab a drink at the bar, even nominate movies for us to screen and even hire private movie screenings."
CICCIC is a registered Neighbourhood Cinema with the British Film Institute No. 000921 and a member of Cinema for All.
An Event with an ID of "7838" could not be found. Please contact the event administrator for assistance.