Soul, Funk, Jazz Club Presents The Soul Strutters – Friday 10th June
Friday 10th June. Tickets £9 online £10 on the door. Over 65 and students £8 online £9 on the door.
Overview
CICCIC's Soul, Funk, Jazz Club launches on Friday 10th June with soul funk fusion band The Soul Strutters and with many more amazing bands to come.
About The Soul Strutters
The Soul Strutters is a collective of professional musicians from Bristol who love nothing more than performing specially handpicked songs from the golden era of Funk, Soul, Disco and Rare Groove.
Formed at last-minute in October 2012 for a cocktail function, The Soul Strutters gelled immediately after the first 4-bars of 'Use me Up' by Bill Withers was performed.
From then on, the band were playing the circuit of live music venues near enough every weekend around the Bristol and surrounding area to the present day, solely through word of mouth.
The group was founded on a mutual love and respect for the music they grew up on and have always wanted to perform, and from the sheer smiles on their faces from start to finish, it's clear that the passion and enjoyment radiates through to the audience.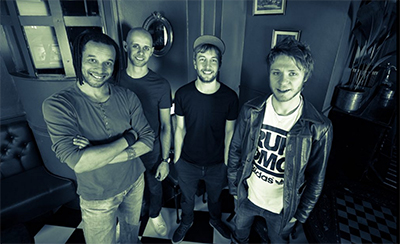 In 2014 – Soul Strutters completed 260 successful gigs. This included a yearlong weekly residency at one of Clifton's premier cocktail bars.
Unlike many bands, the Soul Strutters formed absolutely organically, with the single intention of jamming together for fun. Since then, they have become a full-time band gigging at a variety of special events and soul funk clubs. With a professional attitude you can be assured that the Soul Strutters will surpass your requirements, and put on a great show, bringing all of their enthusiasm and passion to the stage.
The group is made up of full time musicians who individually have many current projects in the Bristol Music Scene crossing a vast amount of genres which is fundamentally how the lads became aware of each other:
Eric Mylod-Okafo (Bass and vocals)
Jack Baldus (Keyboards, talkbox)
James Arbery (Guitars)
Barney Sage (Drums)

The Soul Strutters don't play the usual standard "Funk Band" covers played without any feeling… they go for the Rare Grooves, the original breaks from classic hip-Hop alongside some of the sweetest Soul and 80's groove tracks.
An Event with an ID of "8006" could not be found. Please contact the event administrator for assistance.