Thursday Afternoons – 1pm-4pm – The Drawing Room – Sept 9th – Nov 18th
An introductory course for beginners and experienced alike who want to improve they're drawing skills. Step by step tuition of how to construct a competent drawing using different mediums, pencil, graphite, ink, charcoal etc.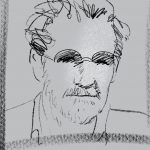 Every session includes an A4 'aide-memoir' to build into a ready reference folio.
The course has been designed by Tony Girardot a very experienced professional local artist and will involve a number of guest tutors who are specialist in different drawing and techniques.
These will help you to explore new ways of looking and approaching drawing and build your own unique portfolio of skills and techniques.
Details
Price
Qty
Ticket for 10 week programme
£150.00

(GBP)

Expired