About Creative Innovation Centre CIC
Creative Innovation Centre CIC; also known as CICCIC (kick-kick); is not-for-profit Community Interest Company and social enterprise established in 2012. Company No. 08140784. Any profits made go back into our community projects and services.
CICCIC is an exciting place where being enterprising about your community or creative practice is what we are all about. We unite all good things that make us happy and connected as individuals, groups and communities.
VIEW OUR SOCIAL INVESTMENT BROCHURE
CICCIC believes and uses the arts to create community connections, unite people, promote diversity, reduce loneliness, assist health and wellbeing, support young people, encourage the use of participating in the arts for personal growth, develop community projects, and even be enterprising about their creative practice and ideas.
Over the past 12 years we have achieved this through workshops, events, community themed projects, utilising our community venue for community development and ensuring all is accessible everyone. We also support and develop the wider community arts eco-system supporting and even helping the creation of new community groups, charities, and CIC's.
Diversity
We pride ourselves in being a proactive and engaging arts and cultural centre that supports all areas of creativity for all ages, genders, ethnic backgrounds and communities. This is evidenced through the many cultural exchange programmes, youth nights and activities and events for the more mature. Check out our 2018 Cultural Diversity Award.
Enterprise – Being enterprising about your ideas; whether that be for money or for community betterment; is essential to us all and at CICCIC we strongly believe in helping others to understand how they can do this. Whether through enterprise training, adopting new skills or simply having a platform to try out new ideas we are here to help.
In the past we have helped people create new social enterprises, businesses, creative products, find new contacts, access to finance and many other creative enterprise related activities. But more importantly we have an open door policy for anyone with an enterprising idea.
In 2015 it was decided to house all our business services away from our arts centre and gallery to Somerset Arts Business Cultural Alliance, as the impact of our work was more county wide. Since then we have run multitude business support events and expanded our arts and culture business network.
To learn more visit www.somersetculture.org.uk 
Community – All communities need space and amenities plus a place big enough for them to meet and partake in group and community activities. At CICCIC we provide this space and have many individuals and community groups who use it. This is especially important as we are the only non-religious community space within Taunton Town Centre.
At present we have a 30 musicians that use our space for rehearsing so they can continue their community music programme, dance groups/lessons, we have University of the 3rd Age (U3A) which includes retired people looking to continue an active life through group interests, we've had public meetings for Taunton Transition Town, local Film Society, Literary Festival, and have several charities that use our space for lectures, talks and other public related knowledge exchange. We even started the first Creative Club in Taunton in 2015, which is free to anyone and have even created new organisations from this activity.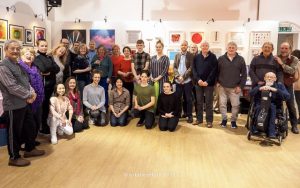 We strongly believe that arts and culture are essential to our communities and the diversity of culture is essential in sharing experiences and ideas. Through our programming we provide these in many ways such as creative workshops, heritage projects, exhibitions, art classes, IT training, film, talks and fundraising events for other groups.
To date we have donated over £312,000 worth of venue space to our community and help raise over £80k per year for other national and local charities.
Culture – Through music, dance, art, talks, exhibitions and media our varied communities can engage with us through our cultural programmes. From specialised music nights, themed dance activities, access to art, poetry, writing and talks members of the public can enjoy a range of cultural events in a safe and creative environment.
Additionally, we encourage others to share their cultural interests with us and our community and we achieve that by encouraging others to share their ideas with us and we assist them in making this happen and to use the space our centre provides.
CICCIC is privately funded by its directors to create an environment which is conducive to the business and community needs that the centre aims to support.
A Community & Business Resource Centre
A physical location for the community to use and access services. The centre acts as a sign post for the support of creative innovation services in stimulating business growth.
We assist business start-ups and help close the digital divide. Community groups can use the centre as a focal point for community development, social enterprise, discussion and resolution. We assist individuals and organisations by accessing services in the interest of community development we provide.
Education & Training
In Arts, Music, Creative Industries, Business, Self Study, Business Innovation and Development.
The centre provides access to a broad range of vocational and business training options and support for businesses, individuals and organisations within the county of Somerset and Taunton.
This contributes to the quality of life for many and assist the creation of jobs and new businesses, while exchanging knowledge with all service providers within the geographical area. This focus also supports the local & national government agenda.
Cultural Development
The centre provides support for families, children, retired people and business start-ups with the aim of extending and developing cultural participation and knowledge. Such activities include working with groups such as charities, schools, colleges and local government services.
Exhibitions, Lectures, Showcases and Performance
There are very few venues for exhibitions, performance and lectures within the Taunton Town Centre area . The centre provides this service so the community can benefit from the cultural exchange of creativity, talent and expertise.. The Creative Innovation Centre provides the resource needed to deliver these services.
CICCIC Directors
The CICCIC directors have a wealth of experience in arts, culture, design, marketing and digital communication; they all have impressive network connections and, importantly, share a passion for building the South West's economy in social and economic terms.
Richard Holt 
Founding Director
Richard is a founding director of Creative Innovation Centre CIC and Creative Industries Centre Ltd. He has extensive knowledge and experience in creative sector development regionally and nationally. He has over 25 years management experience in strategic business, design and enterprise training, arts and design programme delivery, management and quality assurance.  Richard holds the Queens Award 2015 for Enterprise Promotion and a Fellow of the Royal Society of Arts. .
Andrew Knutt
Founding Director
Andrew is also a founding director of CICCIC, Creative Developments, and chair of Somerset Innovation + Design Network and Somerset Arts Business Cultural Alliance, and board member of Design South West and Arts Taunton. Skills in cultural programming, digital design, ebusiness, marketing, IT, media technology and expertise in business development, graphics, art, music and community programming. Educated in business studies and an Associate of the Institute of Business Consulting and Fellow of the RSA.
Christopher Dart
Director
Chris is creative director of the Creative Innovation Centre CIC. He has an extensive knowledge of art and design and multimedia productions as a practitioner, in business and in further and higher education. Chris has worked as a lecturer and in management in assorted art colleges and universities in London and throughout the South of England. Expertise in all forms of art, teaching art and the practical side of art creation.
Janet Glyn-Smith
Director
Janet is a director with over 30 years' experience in the field of Art, Design, Architectural History and restorative practices. She has worked as both an educator and professional practitioner and leads our creative workshops for adults. Janet helps curate exhibitions with Chris Dart, and is proactive in many other projects and activities held at CICCIC.
We also have a community advisory board consisting of members of the community and practitioners from different creative practices. 
Name & Registered Office:
CREATIVE INNOVATION CENTRE C.I.C.
THE MEMORIAL HALL
PAUL STREET
TAUNTON
SOMERSET
TA1 3PF
Company No. 08140784   VAT no: 322774210