Business & Community Projects
We go beyond arts and cultural provision and have, over the past 12 years, completed many projects. Some business focused and others for the benefit of the community. Why not take a browse below and get a real flavour of who we are and the diversity of our social impact.
Supporting the Development of a New Ukrainian Cafe/Gallery in Taunton
CICCIC helped to set up the Ukrainian Café /Gallery to promote this unique culture and cuisine in the Taunton area, and help displaced families to start their own business.
Maryna and Natalie, who will be running the cafe/gallery said "It will provide a central place where the Ukrainian community can come and meet up with friends and integrate with the good people of Taunton. We also want to develop the business, so it provides opportunities for people seeking employment and a centre to support the Ukraine appeal".
CICCIC advised, help setup, found funding, assisted with the business plan and loaned some of its own assets to make this project a reality and since this project the café/gallery has now moved to a larger and more permanent location just doors down from CICCIC so visit it today. Read more here.
Arts Club for Displaced Ukrainian Children
CICCIC has supported displaced families from the Ukrainian war in many ways but one project that warms our heart is the Saturday arts club we created in our other building Arts Hub.
This arts club was designed to provide a safe place where Ukrainian children could meet other Ukrainian children, speak in their own language, create artworks and share their stories of the war, families and displacement. Luckily, we had a local art tutor who came from Ukraine so the support and art classes were even more focused on them.
Children got involved in all forms of art making and we even provided film and media training by bringing in film professionals, which culminated in a project that the children wanted to do, which was for them to share their feelings about the war and displacement. Read more here. (Due to safeguarding we cannot show images of the children on this web page.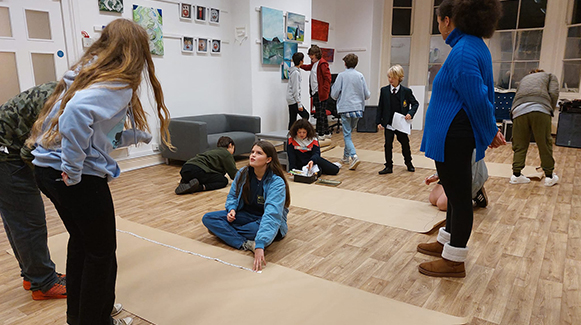 New Arts Hub Building for Community Arts & Youth
In 2021 we were pleased to announce that we now operate a second building in Taunton for arts and culture. With financial support from Somerset West and Taunton (SWT) Council, CICCIC has revived one of Taunton's 17th Century Manor Houses by repurposing it as a new Arts Hub for cultural and creative activities.
The building, known as Flook House in Belvedere Road, will provide office and studio space for creative organisations and practitioners, as well as a conference-ready meeting room for community-based programmes, workshops and vocational learning.
In just 18 months it has delivered 55 events and activities with 513 people involved in community activities, 112 young people of school age supported and involved in activities, 10 community groups and charities been involved in delivering activities and 190 community, partnership and working committee meetings held. Read more here.

Visit the Arts Hub website.
District Wide Heritage Community Project
This project that we funded ourselves has to be one of the largest projects we have ever done as it involved creating a digital exhibition of over 200 old photos and images of Taunton using 17 digital screens throughout our exhibition space, an online video of more images (with 5000+ views) and facts about local heritage, a 75 page heritage magazine, and a range of talks. Each designed to raise money for our organisation as we were hit hard by the pandemic.
Over 1500 from the community accessed our heritage project, 2 primary schools and 400 children, and we sold over 800 magazines (some from even abroad), but the real beauty of the project was that it brought in many people who had not engaged with us before, had many people telling us their stories of their memories of the area, and for some it was the first outdoor location they visited since lockdown.
We hoped to do a second version of this project but unfortunately, we do not have the funds to make it happen but will be looking for future grants to make version 2 happen.
Supporting LGBTQ & Learning Disabilities and/or Autism Communities
There are many groups in Taunton who support the LGBTQ and learning disabilities communities and though many support these groups you'd be surprised how many of them just want to hold an event where they can all enjoy themselves, dance, listen to music, chat and be part of event that that's all inclusive.
That's why we are supported many events and organisations by providing a safe and secure environment for them to enjoy themselves. This includes Taunton Live & Pride events, Lovable (a support org for people with learning disabilities and/or autism, families and carers, support staff) and 2BU (a specialist support service serving the needs of young lesbian, gay, bisexual, transgender and questioning (LGBTQ+) people aged 11-25).
We provide support and part fund the hire of our centre so they can ensure that costs are not a limitation in bringing these communities together, and each event raises money for each org.
Community Art, Music & Dance Fair
When members of the community wanted to create their own art, music, and dance fair we were more than happy to support this weekend-long event. 
We provided space and our time to allow these people to meet at CICCIC and come up with their own ideas of what they wanted to do. We simply supported them with resources and our venue for free.
The result was a weekend of amazing activities that people young and old enjoyed, but the real beauty was seeing people gain experience in creating a community event and others feeling connected by partaking in activities.   
We have done many similar events where the community lead what we deliver and are so proud to be connected to so many great people. Thank you.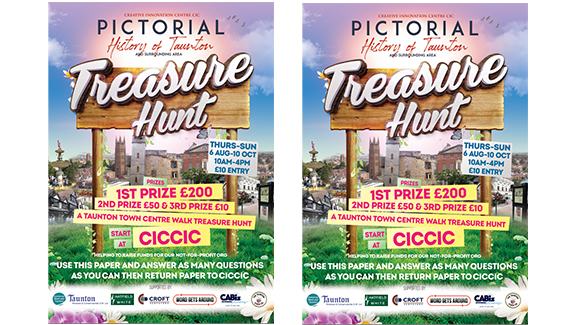 How can we get the community out after lockdown as eased and how can we involve all the family and try and raise money for our not-for-profit organisation?
Welcome to CICCIC's heritage treasure hunt. This community focused event involved bring a few volunteers together, gathering clues throughout Taunton town centre and devising a route so people can enjoy the heritage our town has to offer.
It was a great success and we even had people from other towns as well as local people enjoying our treasure hunt. Kids and parents alike enjoyed this cheap day out while discovering places and architectural things while being outside and adhering to the restrictions set by the government.
Prizes were awarded and this treasure hunt was part of a wider heritage project we devised during a period where we couldn't put on indoor events.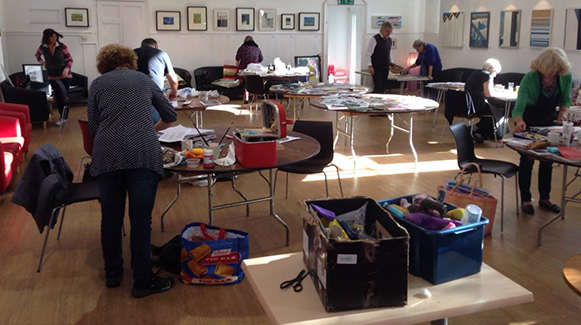 Somerset Skills for Learning Health & Wellbeing Arts Project
Not everyone can afford to partake in art workshops due their financial or personal circumstances. Yet we know partaking in the arts can have great health and well-being benefits.
The problem is that we still have overheads to pay such as rent, utilities etc. and we have to pay our art tutors. So, to overcome the issue we partnered with Somerset Skills and Learning to fund art workshops for those on low incomes.
The result was a new partnership formed between us and Somerset Skills and we had people who could not afford our workshops attending for the first time. Each attendee agreed that the enjoyed taking part in something different and felt that creating something made them feel more confident. As with all our workshops the attendees also had an opportunity to exhibit their creations in one of our community exhibitions.
Responding to Lockdown with Digital & Phygital
The pandemic hit us hard and unlike shops that opened after lockdown, venues like ours could not have large crowds or put on any entertainment. But we wanted to continue to communicate with the community and get them involved in other activities.
So, we created a range of digital activities for people to engage with (most you can find on our YouTube channel) and we created our very own phygital gallery space, which would allow people to visit us but keep to the 2 metre gap.
What is Phygital? Phygital is the concept of using technology to bridge the digital world with the physical world with the purpose of providing unique experiences for the user. You can read more about out digital gallery here.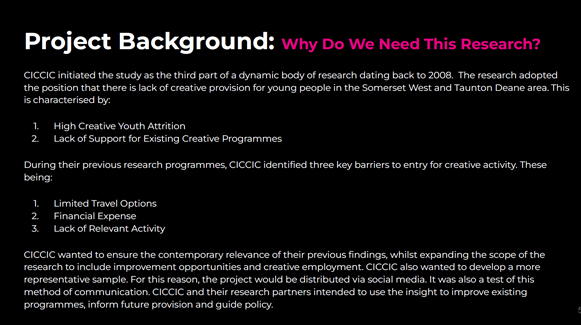 POINT – Extensive Youth Research for the District 2020
CICCIC initiated the study as the third part of a dynamic body of research dating back to 2008. The research adopted the position that there is lack of creative provision for young people in the Somerset West and Taunton Deane area.
During their previous research programmes, CICCIC identified three key barriers to entry for creative activity and wanted to ensure the contemporary relevance of their previous findings, whilst expanding the scope of the research to include improvement opportunities and creative employment.
Using research from the POINT project the local council and other stakeholders were able to develop a youth based focused programme, which has led to the creation of Arts Hub, CICCIC's second building.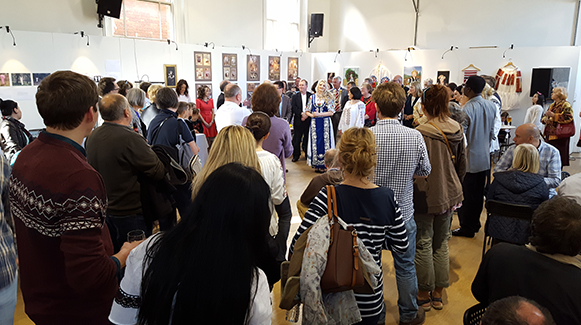 Celebrating & Sharing Our Migrant Community
Our migrant community is wide and varied and often these people leave much of their culture behind and have little opportunities to share and express the cultures they come from.
As part of 3-year long programme, part funded by grant money and part funded by CICCIC, we delivered a range of art exhibitions, music and food events, workshops, dance events, and meetups themed around certain immigrant groups. This included African, Romanian, Indian and Ukrainian.
We worked closely with these immigrant communities and got them involved in helping us organise and deliver these events. The idea was to provide a space for them to celebrate their cultures and share it with the wider community. Each was a success, connections and friendships were made, and it reflected the diverse community to which we love and serve. View our Romanian Cultural Showcase video here.
CICCIC Receives Award for Cultural Diversity
You would have seen above our work in supporting our immigrant community and we were so proud to receive a Special Recognition Award for Cultural Diversity at December 2018's MTM Awards in Bristol. Special Recognitions are awarded to businesses and communities other than the Asian, Black & Ethnic that work closely with the ethnic communities.
MTM Awards is the premier Asian, Black & Ethnic Minorities award event in the South West welcoming over 3600 people across communities at the Glittering Gala Evening, over 1500 nominees and with over 70,000 voting since inception in 2012.
Richard Holt, co-founder and director of CICCIC said "CICCIC has worked with many Asian, Black & Ethnic groups over the years, and it is a pleasure to share their arts and culture with us and the community. We are so proud to receive this award, which would not be possible without the hard work of the team at CICCIC and our local community".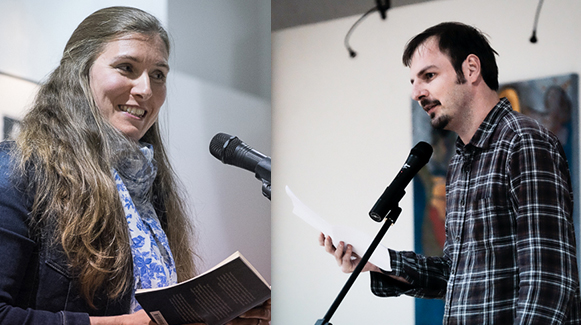 Community Expression – Poetry Programme
Every person has some form of self-expression and poetry is a great way to accommodate that. Writing words down on how you feel, think or believe makes us feel more connected and acts a form of output. Some would say its good for the soul.
Through a range of poetry nights supported by Fire River Poets, we allowed members of the community to bring their poetry and if they wanted, read out their poetry in front of others. We created a safe place and atmosphere where like-minded people could share their words. 
People who got involved were from all walks of life, from deprived areas to those more fortunate, each worked together, found friendship, and shared their life thoughts, which ultimately was great for their health and wellbeing. All funded by CICCIC.
Mental Health Perspective Film & Discussion
Even though we use creativity and arts and culture to deliver many community events, such as those shown on this page, we know that some have more personal challenges and individual needs. We also know that sharing and discussing aspects of mental health is healthy so in Jan 2020 we introduced our 'Mental Health Perspective Programme'. A monthly documentary film and group discussion.
As this was devised and delivered by us we weren't sure if anyone would attend. After all we are not mental health professionals. But 12 people did come. Some had been to CICCIC before, and others for the first time and enjoyed the first documentary 'Finding Joe'. Afterwards we had a voluntary group discussion about what we had learnt from the film and how these lessons resonate with our own lives or how we see mental health.
We delivered 4 more of these events with 10-12 people attending at each one but had to stop due to the pandemic. We hope to do these again in the near future. View more here.
Entertainment Needs Research for Somerset's County Town
CICCIC initiated the study as the third part of a dynamic body of research dating back to 2008. The research adopted the position that there is lack of creative provision for young people in the Somerset West and Taunton Deane area.
During their previous research programmes, CICCIC identified three key barriers to entry for creative activity and wanted to ensure the contemporary relevance of their previous findings, whilst expanding the scope of the research to include improvement opportunities and creative employment.
Using research from the POINT project the local council and other stakeholders were able to develop a youth based focused programme, which has led to the creation of Arts Hub, CICCIC's second building.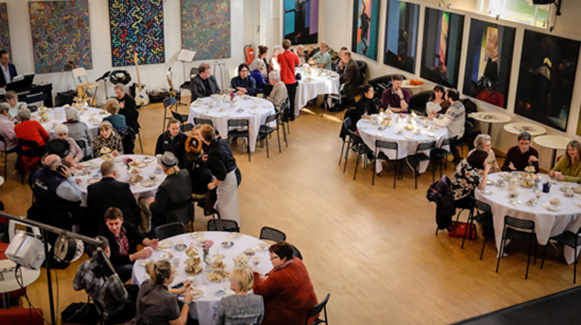 Dementia Friendly Tea Dances & Music Activities
Part funded by CICCIC and the local council we developed a range of activities for people and their carers who were living with dementia, and with music being one of the tools used to stimulate the mind of dementia sufferers our dementia friendly tea dances were a great success.
To get the word out we worked with local care home and the local dementia alliance to encourage people to come. With crust cut sandwiches, cakes and a jazz trio the scene was set, and we were ready to receive our guests.
Some the guests danced while others simply enjoyed the old-time music, with many also enjoying the creative surroundings, especially the artwork on the walls. It was a great success and though had lack of funds prevented more of these activities the eight events we do put on was classified as a much-needed service for dementia patients and their carers.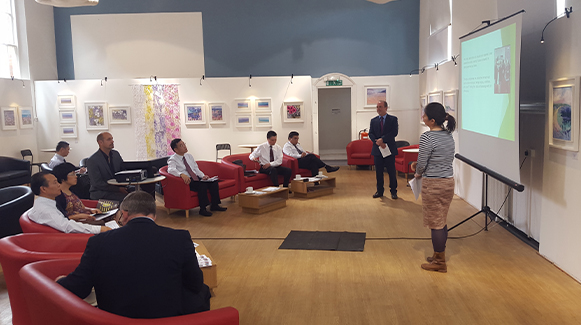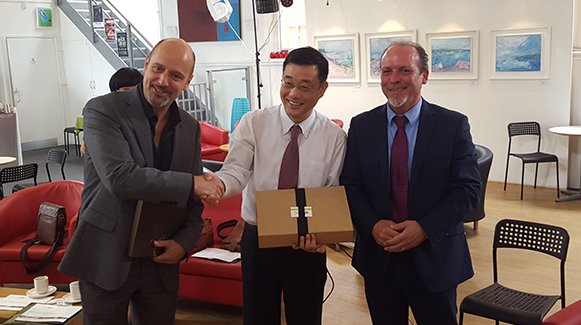 CICCIC Hosts Shanghai, China Delegation to Showcase Social Enterprise
In 2015 CICCIC was the only 'Community Interest Company' or social enterprise in the UK that was selected by the China-Britain Business Council to host a day at CICCIC to present to a Chinese government delegation on how community interest companies work and the benefits it provides to communities and social fabric of our society.
The reason for this knowledge exchange was because China does not have social enterprises or Community Interest Companies, so the objective of the day was for CICCIC to educate the Chinese delegation on how they might instigate similar solutions in China.
Working with the local council, directors Andrew Knutt and Richard Holt presented a afternoon of talks and case studies on how CICCIC benefits the community, with the assistance of a translator. Local gifts were exchanged, and further talks took place for further information exchange over the following months.
YAMS – Young Adult Music Society
CICCIC has been working with the youth community for over 10 years and one project that we ran with no funding for over 3 years was YAMS. This project allowed young people to setup a group of their choosing and with guidance and support from CICCIC, plus use of our centre, they delivered a range of workshops and events for young people.
Many of the volunteers and those who attended made new friends, had an environment that was solely for their age group, and it supported those who love making and performing music. We also gave them experience in running the café side of things, ticketing, and marketing, which many young people used on their CV's when applying for jobs or further and higher education.
We also gave them access to our website so they could create their own pages and here is just one that we have in our archive.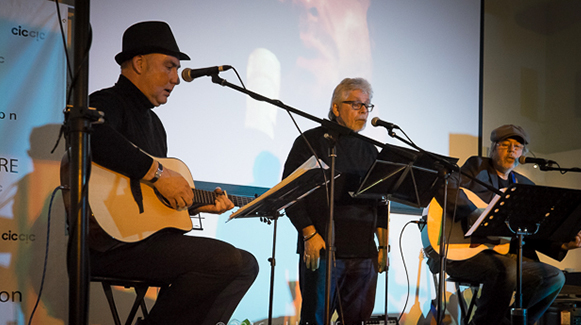 Community Collaboration to Create Community Event
What do you do when four men who meet for coffee at CICCIC suggest a Leanard Cohen event to celebrate his works? Well, you work with them to make their ideas come true.
We advised and became part of a volunteered working group and over weeks of working with other community members we had poets, musicians, writers, photographers and others who joined and all done by the community but supported by CICCIC and included us donating its staff time, venue for meetings and provided its resources so the event could take place.
The result was an amazing collaboration between town and villages, retirees and working aged people, and an amazing night of people from the community performing and screening. The event also helped raise funds for UK Dementia Alliance and CICCIC.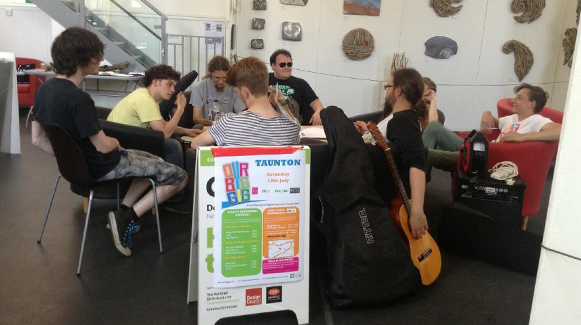 Café Encore – A partnership with Stand Against Violence Charity for Young People
In 2013, a new charity called Stand Against Violence was starting out and needed a home for its activities and to educate young people on the issues of violence. To achieve this the charity wanted to run a range of youth events, and through talks and a commitment to share these objectives, we partnered with the charity to share the load.
It was decided to call the project Café Encore with weekly evening events that young people would love. From art making to video gaming. To music and group discussions to event creation.   
We also created further partnerships for the project including Liven-up and Richard Huish College. This project ran for 2 years and helped catapult Stand Against Violence into a bigger charity.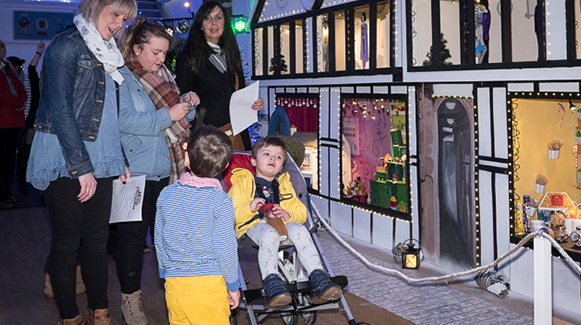 Community Christmas Winter Wonderland Project
With some funding from National Lottery, we created a small replica of our town and ran a whole range of community-based programmes over the month of December in 2016.
We recruited a range of volunteers from the community and started to design and build our winder wonderland. It took the month of November to create it but the result was amazing.
Local community groups from deprived areas of Taunton were invited to attend for free and children had the opportunity to see Santa and get a gift.
The event was a complete success and took a lot of our own cash flow and staff time, but it was one the memorable projects we delivered in our community.
College Partnership for Student Development in Music & Performance
For the past 8 years we have partnered with local college Richard Huish College to allow students who are studying music and performance to gain experience in running and organising an event.
Each year the students are given the responsibility of learning what it is like booking a venue, programming an evening of music and bands, ticketing, marketing, sound production and lighting.
We allow these students to run their own event at our centre and we work with them to provide knowledge and experience, which is part of their course work and tutors mark them on this endeavour. We commit resources and staff time for free to allow students to get the most out of these projects.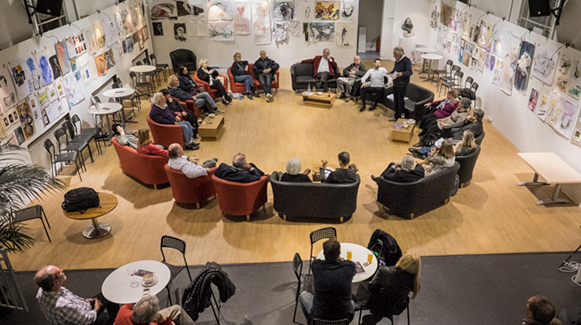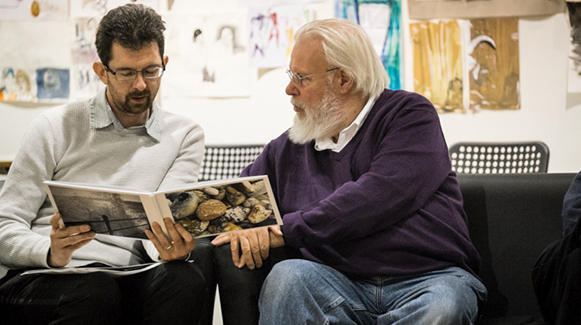 Some people want to start being creative and some have already started. But many wish to learn more, be part of the creative community and create social connections through creative interests.
That is why CICCIC, for over a decade, has been running a Creative Club at our centre. During that time we have allowed others in the community to take the lead role and organise club events and many have moved on to starting their own community interest company or now earn as a freelancer. Others simply volunteer their time for community projects.
On some occasions we have manged to get some small pots of money to help run these but in essence these are funded by CICCC and you'd be amazed at the amount of community projects that were born at CICCIC's Creative Club and the connections that people have made in the process.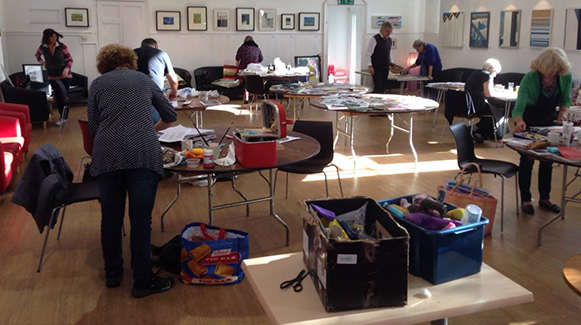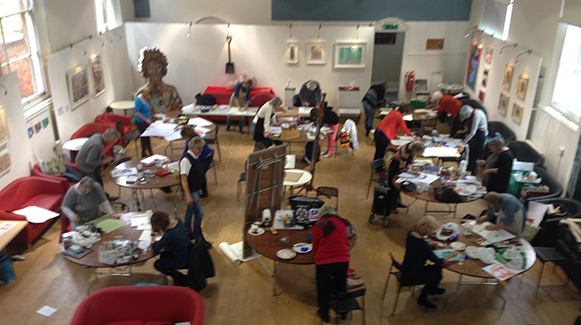 When we started CICCIC back in 2012 we started art workshops and continue to deliver them at CICCIC and now our second building Arts Hub.
Over that time, we have taught over 800 people in all forms of creativity including, painting and drawing, print making, textiles, and a range of associated subjects.
What makes us different is that we allow those who attend to be part of an exhibition at CICCIC, and we have seen the self-esteem of many people increase considerably when they are part of this community public event. When they sell a picture for just £20 they gain a certain amount of confidence. Not forgetting the health and wellbeing aspect of participating in art.
Browse our website to find out what's on regarding art workshops.
Taunton WW1 Centenary Community Heritage Project
With the help of Heritage Lottery funding, we delivered a 6 month long WW1 Centenary project that included us holding public events in local schools, colleges, village halls and CICCIC for the public to come in and have artifacts photographed, have photos and documents scanned and other memorabilia, with our project staff and volunteers.
These items along with other local research were to be collated and used to produce a month long public exhibition at CICCIC and a dedicated website.
We recruited partners including the Royal Marines (Norton Manor), Taunton Deane Council, Somerset Archaeological and Natural History Society, Historic Society, Community Covenant, and UK Hydrographic Office.
The project was a great success and stimulated a lot of interest in local and family heritage.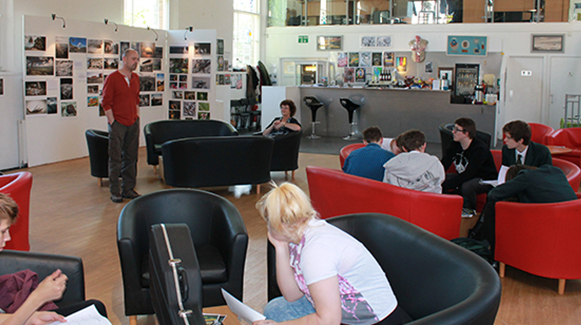 Regular School Education Visits
Art exhibitions can be a great source for educating school children and with music programmes delivered at CICCIC its no surprise that schools contact us to engage with our community projects and want to learn more on what we do and how we do it.
That is why we take time out and use our own resources to accommodate school visits. We have had primary schools and secondary schools be part of a whole range of community themes. We even have year 10 students who also interview us to learn more about the art and music industry.
It is a shear joy to see children engage with the arts and community and the interests it creates within them.
Accessible Theatre, Art & Music in Rural Communities
Taunton has many surrounding villages and access to arts and culture is hard for many, so this project was to work with two rural areas of the district to deliver a range of activities to stimulate and engage with the arts.
Working with parish councils, churches, and local schools in each rural area in 2018 we devised a range of activities that got everyone involved in West Buckland and Trull areas.
This included fabulous mind inspiring theatre by Mumblecrust Theatre in a school and village hall, art workshops in primary schools and a range of music performances in schools and churches that had to be ticketed as we very little cashflow to make these things happen.
The result was that theatre, art and music was more accessible for everyone in villages around Taunton and we had more planned over the coming months.
Youth Audience Development Research
With support from the Regional Development Fund, Arts Council England, and Universities South West in 2015, CICCIC ran a research project on what 14-24 year olds like to do. This data would then be used for audience development purposes.
To assist in the process CICCIC hired a new group from Falmouth University called Mercurial Wrestler, who engaged with local schools during school time to maximise the numbers taking our survey.
They also created a form of art installation called 'Making Dreams', which allowed young people to lie on a bed and look into clouds with sound and lighting. This art installation was housed in Taunton's High Street for a week. The idea was to get young people to dream up their ideas, wants and needs.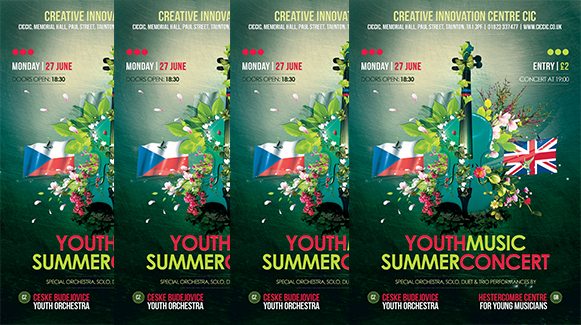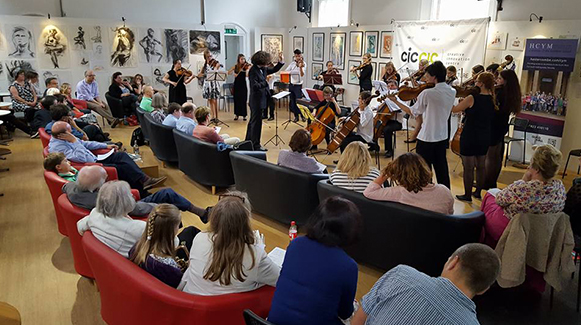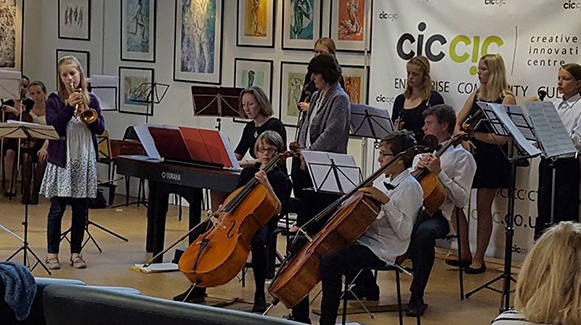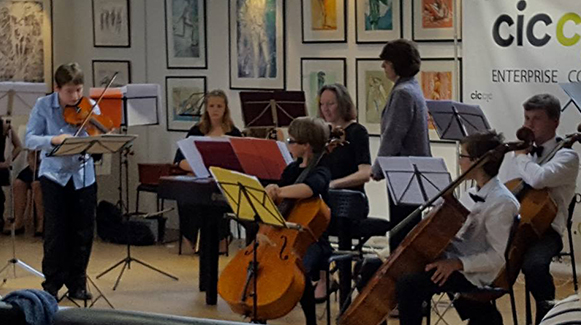 Czech Youth Orchestra & Town Twinning
Working with Bridgwater Town Council's Twinning committee and Guildhall School of Music & Drama, CICCIC dedicated its venue and resources to support a concert of young musicians from Czech Youth Orchestra from Ceske Budejovice.
Guildhall School of Music & Drama also had some of its own young musicians included in the event, which was branded as Youth Music Summer Concert and we spent the afternoon rehearsing and working together for an evening concert.
Parents, town council, twinning committee members, and the public enjoyed a great evening of classical music with a repertoire including Dvorak, Janacek and Vivaldi plus Joplins Ragtime.
The children gained much experience in the process and new connections were made between all parties.
Reopening & Business Plan for Closed Brewhouse Theatre
In 2013, just 1 year after we opened CICCIC, the local theatre known as The Brewhouse Theatre was closed due to having much debt. Though the local community petitioned to reopen it the local council refused support.
Additionally, there were two factions/groups that had ideas on reopening it, but they wouldn't talk to each other, which didn't help the situation. So, after attending meetings with each group in local pubs, CICCIC managed to get both groups in one room and offered its venue for free for this cause.
Directors of CICCIC then instigated talks and break out group discussions and helped both parties to come to one agreement. We then assisted the creation of a working committee which culminated in the creation of a new charity and with this new committee we helped create a business plan which eventually helped the reopening of the Brewhouse Theatre in 2014.
Music Development Jazz Workshops
With financial and resource support from CICCIC local music artists were brought together to work on a music programme that allowed others to learn from each other and be part of a wider community.
Lead by musician and teacher Charlie Hearnshaw new and established artists attended monthly workshops were improvision and music making together was enjoyed by many people in the community.
We had retirees who wanted to rekindle their music playing, musicians who wanted to learn and expand on their existing skills and those who had not played as part of a collective.
Death Cafe is a global movement; Taunton is only a single "branch"! Death Cafes are pop-up cafes where any person can come to talk about all aspects of death and dying, in a comfortable and relaxed setting. There are no speakers, schedules, or agendas, and discussion is led by the participants. Importantly, there is always cake!
We supported and started Death Café at CICCIC in 2018 because it is voluntary lead and is a key support mechanism for our local community. It ran for two years and then the pandemic forced closure for nearly two years.
You can see one of these events on our website at: https://www.creativeinnovationcentre.co.uk/events/community-event-death-cafe-saturday-1st-sept-2018/
Rural Music & Theatre Outreach Programme
Using our own funds and resources we identified a rural area near Taunton (Blagdon Hill, Pitminster, and Angersleigh) that had no arts engagement, yet our research showed that many wanted more arts and culture locally.
Luckily, we found a place in the heart of this rural community called Poundisford Park and worked with the private owner to use their land for music and theatre.
Over a two-year period we delivered a range of events over the spring and summer months and worked with artists and Oxford Shakespeare Company to put on a mix of open air theatre and live music.
We also did additional work in the community including film screenings and even Halloween and treasure hunt events. Over 350 were engaged through these programmes. Example event can be found here.
Oxjam – Fundraising for Oxfam
For several years running we have committed resources, staff time and finances to help raise money for charity Oxfam.
To deliver these events we relied on our connections with the local music sector and community and were always pleased that we had local musicians and bands who would play for free to help the cause.
The local Oxfam representatives helped us market and organise these events and further fundraising was made on each night we held an Oxjam.
Over the years we have delivered these events we have raise £1000's for Oxfam.
Creative Industries Needs Analysis Research
The creative industries cover a wide spectrum of sub sectors such as design, arts, culture and digital. The local council wanted to understand the needs for the sector within the Taunton Deane area.
CICCIC was commissioned by Taunton Deane Borough Council to research these needs, so with discussions on how to develop this information surveys were created and distributed through a range of channels.
The research discovered that 46% of businesses surveyed were just 1-5 yrs old, 40% were sole traders, access to new markets/customers and availability of premises were the top barriers preventing growth. 75% agreed that Taunton needs a business incubation/serviced offices/workshop space for creative businesses and start-ups.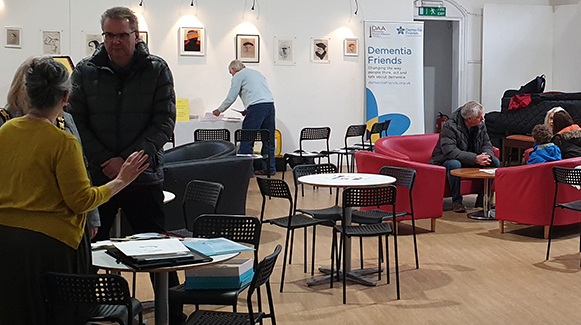 Taunton Dementia Action Alliance & Workshops
From 2015-2020 CICCIC director Richard Holt help setup and chair the Taunton Dementia Action Alliance which supported training for over 70 businesses in the town centre with dementia awareness training to help front of house staff with the appropriate knowledge and skills to help people living with dementia use their services and premises.
CICCIC then became a space where people living with dementia and their carers could come along to drawing classes, creating a peer support group working with other support groups locally. The workshops created respite for the carers so they could have a well-earned rest.
The project also created awareness by CICCIC holding dementia awareness days where the public and businesses could pop in to get advice and sign posting to other resources and advice. View link here.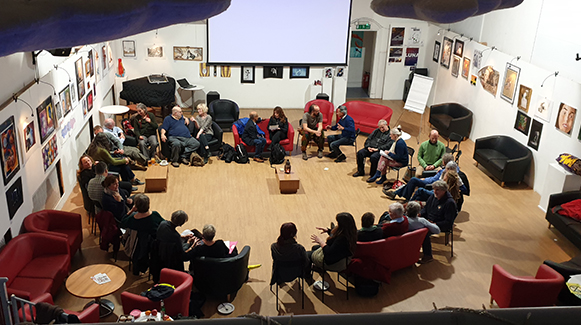 A Hub for U3A & Other Community Group Meetups
Every community needs a space to meet, enjoy refreshments, and feel safe in that space, and for over 11 years CICCIC been used and continues to be used for many community meetups.
There are just too many groups to describe here who they are, but they include groups like U3A, art appreciation groups, church groups, charities, and social enterprises.
Most of these groups use our space to meet up during the day and others benefit from our charity pricing to hire our hall for evening events and meetups.
This ultimately means that we have become a central place for community use and benefit, and we are proud to continue supporting these people and groups.
Community Music & Voice Improvisation
For over 6 years we have been working with local music artist Tim Hill to deliver a music and voice improvision workshop each month (called Hullabaloo), which culminates to a weekend of performances each year from non-professional and professional musicians and singers.
The idea of these workshops is for individuals to explore their creative expression through music, sound, and voice. It's more about sound art rather than harmonic music and that's why we often have the weekend performances with visual projections to add more texture.
Though each person who attends pays a small amount to be part of the monthly workshops the use of our venue, staff and resources are provided by CICCIC and the weekend performances are also funded by us.
Free Youth Family Summer Concert in the Park
This mini one-day festival using Vivary Park in Taunton was a great success and was designed to showcase young music talent and provide a great day out for families and individuals.
To achieve this project, we partnered with local newspaper Somerset County Gazette, Richard Huish College, Taunton Deane Borough Council and Quantum Group. CICCIC dedicated costs and resources, and recruited and managed 8 volunteers for this event and all to help raise funds for Taunton Association for the Homeless.
It was a fantastic day with everyone bringing picnics and drinks and enjoying local culture in a beautiful park setting. The young bands and artists got performance experience and many have gone on to bigger and better things.
Women's Vote Centenary Project
With funding from the Heritage Lottery Fund we created and delivered a month long of activities and digital resources for Woman's Vote Centenary and used the suffragette movement as its focus.
Activities included a talk called 'Senseless outrages against property': The Militant Suffrage Campaign, An Evening of Suffragette Poetry & Verse, Woman's Vote & Suffragette Poster Art Workshop & Banner Creation (for exhibition at CICCIC), Free Movie Night 'Suffragette' & Discussion, Hatpins to Hashtags – Activity Afternoon, Workshops for women in the workplace, Digital Democracy Workshop, talk on 'Discussion & Speakers: Taking on the Media' and an exhibition called 'Politics & Protest: Posters from the Women's Liberation Movement. We also created a video on the history of the woman's vote which can be viewed here.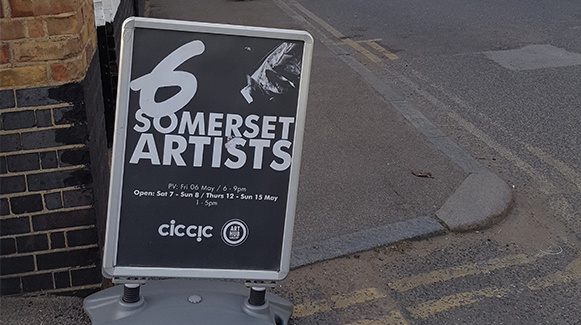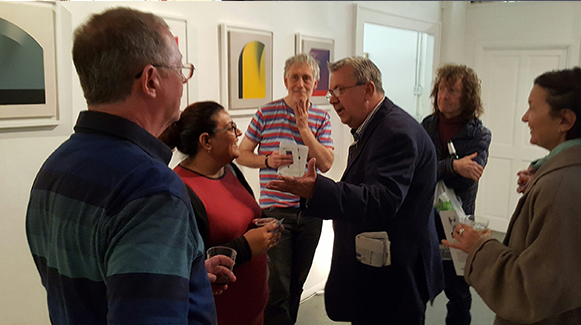 Community Art Exchange with London Gallery
Providing opportunities for new artists is always an objective of ours and we wanted to create an exchange programme with a London gallery so these new artists could get exposure and experience and develop their personal and artistic goals. 
To this end, we developed 'Six Somerset' and created an exchange programme with Art Hub, Deptford, London. The scheme took s while to organise but in the end Art Hub featured 6 Somerset artist and we; CICCIC; featured 6 London artists. The exchange programme was a great success and though this was a volunteer project by CICCIC it boosted the confidence of each budding artists, which included Mark Adkins, Jason Caplan, Andy Davey, Tony Girardot, Richard Holt & Andy Knutt.