Doors 7.30pm. Starts 8pm. Adv Tickets £12. OTD £14.
Enjoy three great music performances in one night with our Songwriters Circle music night.
The format of this concert is becoming increasingly popular with audiences around the world. Three singer-songwriters take the stage together and take turns to introduce and perform a selection of their compositions. The format creates a comfortable, informal atmosphere that allows for interaction between the artists. Indeed, part of the enjoyment of this style of performance is that artists will often choose to perform something that then kicks off an artistic response from the other artists.
GREG HANCOCK, ALEX SEEL and MAAIKE SIEGERIST are accomplished songwriters and performers who complement each other perfectly. Each has very different influences and approaches to song writing but they all share the passion for presenting stories and crystallised ideas and observations through the medium of song.
ABOUT THE ARTISTS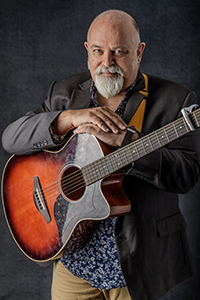 GREG HANCOCK
Greg Hancock has a growing reputation as one of the most original songwriters and guitarists on the acousutic scene these days. His songs cover mature topics from the hilarious to the heartbreaking, all observed from a slightly skewed viewpoint on the human condition. With rich, witty lyrics and intricate fingerstyle guitar playing, he tells stories and paint portraits that will draw you in and still resonate long after.
A303 – "One of the finest albums of the year" Folkcast
"Wonderful lyrics. Stunning!" BBC Introducing
"The State of My Hair" Finalist for Album of the Year B&R 2019
MAAIKE SIEGERIST
Maaike Siegerist is an award-winning Dutch singer-songwriter, based in Bristol. She writes story-telling songs about travels, love, remarkable people, and recently, ecology and endangered species. Maaike's music is a quirky blend of classic jazz, Argentinian folk, and gothic metal influences. Her voice is reminiscent of Joan Baez and fado singer Cristina Branco. Her music has been played on local and national BBC Radio, and she performs in the UK and the Netherlands.
"Maaike's voice is butterflies-inducing." – Neil March, Trust the Doc
"Delicate vocal, poised production, gorgeous chord changes" – Tom Robinson, BBC Radio 6 Music
"A voice smoother than Dutch chocolate" – Music Eye UK
ALEX SEEL
Alex Seel is a singer-songwriter and guitarist with roots in folk & blues. Music has led Alex Seel from Devon to London to Ireland and back to London again. Through his wanderings, Alex has picked up a beautifully crafted, warm, rootsy song-writing style with thought-provoking, subtle lyrics and a gift for acoustic guitar finger-picking. He has a growing reputation as a solo performer.
"…bursting with creative ideas and performed with the utmost care and ability…" Folk Radio UK
"manages to grasp the listener within the poetry of his words…spell-binding lyrics". Maverick Magazine
"…a mastery of fingerpicking techniques and a repertoire of unusual chords; a fine poet with a very personal vocal style" Rolling Stone Magazine
Songwriters Circle Night - Doors 7.30pm


November 19, 2021




8:00 pm - 10:30 pm
We're sorry, but all tickets sales have ended because the event is expired.