Free Online Art Sessions
Mondays, 1.30 to 3.00 pm
To book contact Debbi Sutton:
Email: DArt@SuttonOnSutton.com
Telephone: (07941) 977867
'Art for everyone' is an art class set in a friendly, safe and secure environment with a specialist art tutor and assistants. These workshops are suitable for anyone who likes practicing art, people living with dementia and their carers. ( Carers can come for free).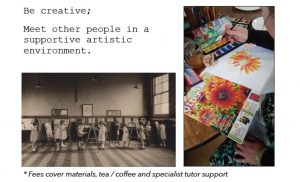 This class is designed for people to be creative and meet other people who enjoy making art.  Debbi Sutton, an experienced artist and carer, will guide participants thought a series of enjoyable exercises that can be adapted to suit experienced artists and beginners, who are living with Dementia.

Debbi Sutton, artist and teacher, has 20 plus years' experience teaching at College and is an experienced carer.  She is enthusiastic, supportive and creates supportive learning environments in all her classes.
Creative Innovation Centre CIC is a local art centre with community at its heart, and is a creative and safe space for people with Dementia.
To book or discuss how the class works please email Debbi : debbi@suttononsutton.com
Join the laughter
Meet other people
Be creative
Supportive artistic environment
June 15, 2020 - August 24, 2020




12:00 pm - 5:00 pm