Doors 7.30pm. Gig 8.30pm. Tickets £10 online or £12 OTD.
CLUB KONGO IS BACK
Taunton's wackiest night out 'Club Kongo' returns to the The Creative Innovation Centre on Saturday 12th February. Run since 2017 Club Kongo delivers killer live bands, vinyl DJs, 1960s go go dancers, plus the usual freak out, films and visuals.
The latest bill includes The Strays who are are pushing rock n roll to it's limit, fusing a multitude of genres to create a unique modern sound with a gritty, vintage edge, their debut album 'Drop Out Zone,' released through Western Star Records, landed in the summer of 2019 and ha
s been flirting with BBC Radio shows across the country ever since!
Main support are London 3 piece 'Thee Escapees' who play 1960's garage beat trash with a mixture of rhythm & blues and a rock n roll beat, that's gonna knock your socks orf!!
Opening the night are new psychobilly 3 piece 'Planet Strange' expect high energy originals with one or two re-wired classics !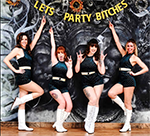 Our fantastic 1960s go go girls 'The Go Gets' will be back with us plus CLUB KONGO vinyl only DJs Lee Grimshaw and Luther ' Big Dog Dixon.
This promises to be another night to remember.
Club Kongo Sat 12th Feb


February 12, 2022




7:30 pm - 11:30 pm