Doors open 7.30pm – Music from 8pm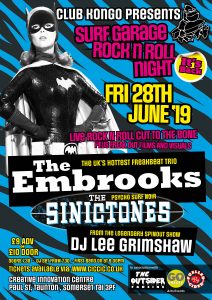 Tickets £9 online or £10 on the door.
On Friday 28th June 2019 the CIC holds its 10th CLUB KONGO night. The simple formula is two kick ass live bands and an all vinyl DJ – featuring killer surf, garage, rock n roll music.
Tonight's headliners 'The Embrooks' are one of the UK's best ever psych/garage/freakbeat combo's from any decade. There are few current bands that can play in the Sixties freakbeat style with such authenticity, combining great melodies with fuzzed-out psychedelia and a power-trio approach. They mix pure pop elements with original effects to create a sound that's both nostalgic and contemporary, recalling the past but placing it firmly in the here and now.

Support comes 'The SinicTones' who are the originators of Psycho Surf Noir, combining frantic surf beats with fuzzed-spy guitar riffs, driving ear-candy bass lines and dark menacing tones for the upside-down, misfit jiver. Featuring songs from deep down the rabbit hole with Film Noir / B-Movie / Femme Fatale and Pulp Fiction (the books, not the film!) vocal themes.
Tonights DJ is surf / garage gentry! Lee Grimshaw…..he of the Spinout Nuggets Record label, Spinout Revue Club and The Spinout Radio Show comes hot foot from the festival curcuit. He'll be throwing out musical wonders, giving you a vinyl stew with an eclectic blend, but frothing with 50s/60s Soul and R&B, Psyche, Boogaloo, Funk, Hammond Jazz, Mod Raves, Medway Magic & Exotic Delights!
Club Kongo - June28th


June 28, 2019




8:00 pm - 11:00 pm
We're sorry, but all tickets sales have ended because the event is expired.