This event has been cancelled due to low numbers and a symptom of COVID, which is expected for some events. We are sorry for the inconvenience. 
£3.50pp. Teams of up to 4.
Please note: Due to new curfew rules in the UK we will be starting earlier. Doors open 6.30pm – Quiz starts 7.30pm.
Love movies & TV? Then why not get your team ready and come test your knowledge with our amazing Movie & TV Quiz night. There are prizes to be had plus a great time at our spacious hall and licensed bar. Ideal for families too.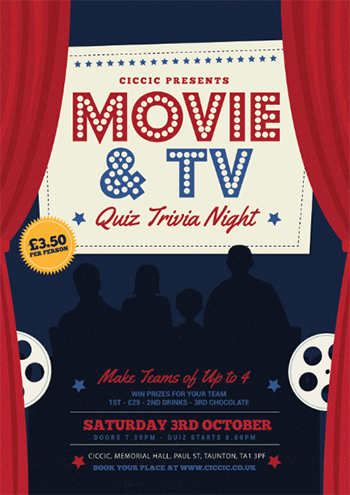 We've got obvious questions, obscure ones, and even ones that make you kick your self. Plus we use images, video and sound on our big screen. Covering subjects such as:
Movies
TV
Actors & Actresses
Writers & directors
Guess who
Movie & TV music
And anything in between
All designed to keep you on your toes!
The quiz is projected onto our big screen whilst the questions are read out so it should be easy to follow.
Nothing too strenuous though as we want you to enjoy the evening! Previous quizzes have been good fun! So bring your friends or family, all ages welcome, and test yourself in comfortable surroundings with a licensed bar on hand.
Quiz master for the night is CICCIC director Andrew Knutt, so be on your best behaviour!
Prizes
We have some great prizes for winners and runner uppers on the night including:
1st – £25
2nd – Round of drinks
3rd – Chocolate
Spaces are limited more than usual because of social distancing measurements we have put in place so book early to avoid disappointment. Due to booking system teams of 3 will have to pay for a team of 4 even though only 3 arrive.
COVID Measurements at CICCIC
We have extended the 'doors open' time from the usual 7.30pm to 7.00pm to ensure everyone doesn't arrive at the same time.
We have a strict cleaning regime, NHS track and trace, sanitising stations and seating has been arranged with 2 metre gaps.
When you arrive we ask that you respect the 2 metre rule when arriving at the same time as others and when ordering from the bar.
Movie & TV Quiz Night


October 3, 2020




7:00 pm - 11:00 pm