10am-4pm Thurs-Sun. Aug 6 – Oct 10th
We are pleased to announce that we launch our reopening for an exciting project and have our bar and cafe open for those who attend this amazing community project.
The 'Pictorial History of Taunton' is an exciting and innovative project designed to promote engagement with local heritage and to raise funds for not-for-profit organisation CICCIC. An arts and culture centre in Taunton, Somerset.
The project includes a 17-screen digital gallery exhibition at CICCIC's art centre where you can view over 230 old photos of Taunton and surrounding area, a Taunton town centre treasure hunt with cash prizes, a history magazine with unseen old photos and a landscape and street art competition.
More information is below.
---
Pictorial History of Taunton Exhibition
Be prepared to be amazed by a 17 digital screen exhibition showcasing over 230 photos and images of old Taunton. You'll see some amazing images and get the chance to see the changing landscape and streets of Taunton, peak into the past lives of people and old pictures of villages in the surrounding area.
Social distancing measurements are in place and with our massive hall the air will be clear. Our cafe and bar will be open so you can enjoy a coffee or alcoholic drink while you visit.
This is a fundraiser so a small fee of just £2 per person or £5 for families applies and no need to book. Just turn up. Just note that you may have to queue like many other places.
---
Town Centre Treasure Hunt with Prizes
Our treasure hunt is designed for everyone. From families with young children, adults with a heritage interest, tourist who want to discover more about our local history, teenagers that like something to do with their friends, and those that would like to support our fundraising to keep our centre open and purring.
The treasure hunt starts from CICCIC and that's where you pay your fee and get your treasure hunt paper. You then make your way to the town centre and follow the simple instructions and try and answer questions.
You can take the treasure hunt in one day or spread it over several days. And at just £10 a group; plus knowing that you are helping us fund raise for our not-for-profit community organisation; its a real bargain for hours of entertainment.
Groups who answer all the questions correctly go into a hat and winners are picked. The 1st prize is £200, 2nd £50 and 3rd £10.
No booking required. Just pop in between 10am-4pm Thurs-Sun, Aug 6-Oct 10.
---
New Taunton History Magazine with Unseen Images & Great Historic Facts
We love heritage at CICCIC and this magazine has some of the most interesting facts and articles, plus old photos you won't find in our exhibition and unseen ones too. We've even included a couple of puzzles and stories from people that grew up in Taunton.
So why not pop into CICCIC and buy your fundraising edition of this magazine, and while you are there why not visit our exhibition too.
---
Taunton & Surrounding Area Landscape Street-scape Art Competition
Whether you paint, draw, create digital art or create 3D images with textiles and materials, we would love to see your artwork on Taunton and surrounding area.
These can be buildings, street scenes, landscapes or other features in our built environment. From villages to farms, to town centre to the street you live in. We'd love you to enter.
Entries must be around 50cm by 28.5cm or similar size. Send your entry as a jpeg, tiff or PNG to artcomp@creativeinnovationcentre.co.uk.
---
Send Us Your Photos for Next Exhibition & Peoples Museum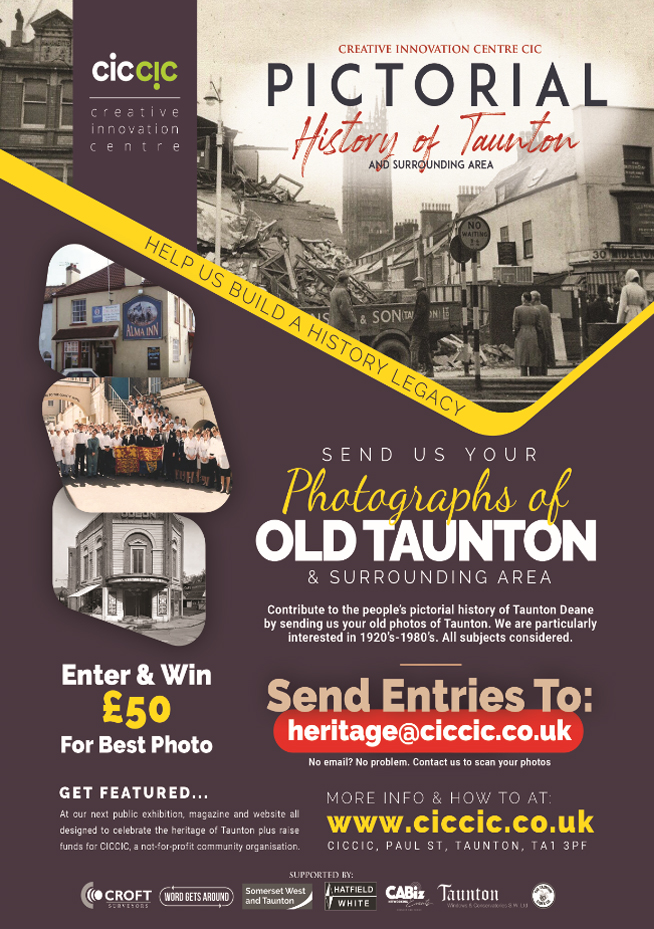 Not everyone is on Facebook and we want to create a peoples museum of old Taunton. So send us your photos & get featured in our next 'Pictorial History of Taunton' exhibition and magazine. Written memories & stories also wanted. Particularly 1940's-1980's. All to help fund raise. See poster for details or email heritage@ciccic.co.uk
---
We still need help with crowdfunding campaign 'Safeguard & Help Taunton's Community & Culture'
Help us stay open by supporting our crowdfunding campaign to raise £18k.
We fully appreciate that these are tough times for everyone in every aspect of life but are still hopeful we can find the financial support needed to reopen. But the real beneficiaries are not us but the 1000's in the local community that use our centre to feel connected and enjoy arts and cultural experiences.