Doors 7.30pm. Starts 8pm. Adv Tickets £12. OTD £14.
Enjoy three great music performances in one night with our Songwriters Circle music night.
The format of this concert is becoming increasingly popular with audiences around the world. Three singer-songwriters take the stage together and take turns to introduce and perform a selection of their compositions. The format creates a comfortable, informal atmosphere that allows for interaction between the artists. Indeed, part of the enjoyment of this style of performance is that artists will often choose to perform something that then kicks off an artistic response from the other artists.
Nick Girone-Maddocks and Bob Gallie are accomplished songwriters and performers who complement each other perfectly and Millicent is a budding songwriter and performer. Each has very different influences and approaches to song writing but they all share the passion for presenting stories and crystallised ideas and observations through the medium of song.
ABOUT THE ARTISTS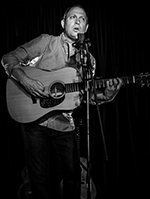 NICK GIRONE-MADDOCKS
Nick Girone-Maddocks has a long song writing back-catalogue, be it solo or with the seminal UK acoustic group Thunderbridge Bluegrass Band or Nick Girone-Maddocks & His Band, each spreads subject matter far and wide, humorous and deep-thinking too.
Nick's styles are roots-based, and Nick's always a good story teller and his solo performances is an engaging affair, with a relaxed performance enabling everyone involved to feel a part of.
MILLICENT MORGAN
Millicent is a 15-year-old singer-songwriter and bedroom producer from Taunton. She draws from a range of artists including Ed Sheeran, Ellie Dixson and Supper Cub. From a young age, she has been influenced by her Dad's love of reggae, folk, punk and soul.
In her song writing, Millicent pulls from artists that use their music to discuss societal issues (such as Tracy Chapman) as well as her own experiences as a teenager. Since 12, she has been honing her craft at open mics and local competitions.
BOB GALLIE
Originally from the Valleys of South Wales, Bob started music when in school and learned to play guitar and sing the hard way !! After leaving Wales Bob played in various bands in the South West as a Vocalist. He progressed further to become the Vocalist for Diamond Head guitarist Brian Tatler in his new band Radio Moscow. After 4 years of performing at major Venue's such as The Marquee and constant gigging, Bob left due to personnel reasons and left the music behind. Time as they say is a great healer and Bob returned to his roots playing Acoustic guitar and learning to sing again and write. Today we find Bob playing Festivals and gigs everywhere and anywhere. Music has never gone away…
Songwriters Circle Night - Fri 21st Apr - Doors 7.30pm Start 8pm


April 21, 2023




8:00 pm - 10:30 pm
We're sorry, but all tickets sales have ended because the event is expired.