Creative Innovation Centre CIC is proud to announce that it has won the Best Community Arts & Culture Venue 2023 – South West England' Award for its hard work in supporting and developing the arts and culture sector.
The SME Southern Enterprise programme (part of SME News) prides itself on the validity of its awards and winners. The awards are given solely on merit and are awarded to commend those most deserving for their ingenuity and hard work, distinguishing them from their competitors and proving them worthy of recognition. It's with this context in mind that SME News presents this year's edition of the Southern Enterprise programme, which – as always – looks to recognise the very best of British business.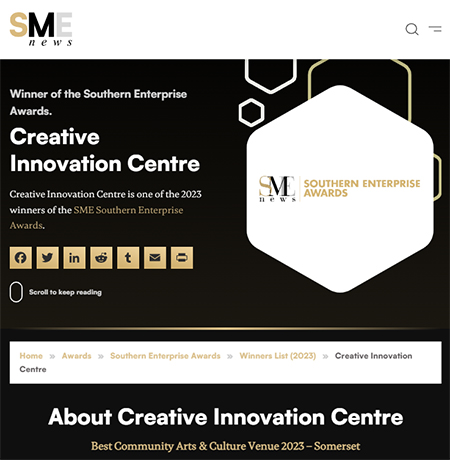 "As well as supporting all forms of creative practice within arts and culture, CICCIC also does lots of work delivering arts, culture and entertainment; helping to develop the arts and culture offer in Taunton, Somerset. We are honoured to be recognised for the hard work our team and the amazing community of Taunton have done in making this award a great end to 2023" said CICCIC's co-founding director, Richard Holt.
Award Coordinator Holly Morris discusses the success of this year's programme: "As always, it has been a pleasure and a privilege to contact those that have been awarded in the SME Southern Enterprise programme. I hope you all have a fantastic new year!"
CICCIC are so pleased about this award and adds to the 'Cultural Diversity' award CICCIC won in 2018 and the 'Best Creative Sector Support' award in 2020 & 2021 . Evidence that CICCIC goes beyond provision and supports the wider sector as a whole.
Fellow CICCIC co-founding director, Andrew Knutt adds: "Developing creative practice and providing a diverse range of arts and culture in our community is key to our DNA and being recognised for the hard work we have done throughout Taunton and the region is an honour to receive and we all look forward in seeing more developments in 2024".
To learn more about the award: https://www.sme-news.co.uk/winners/creative-innovation-centre-3/