Doors 7.30pm. Starts 8pm. Adv Tickets £12. OTD £14.
Enjoy three great music performances in one night with our Songwriters Circle music night.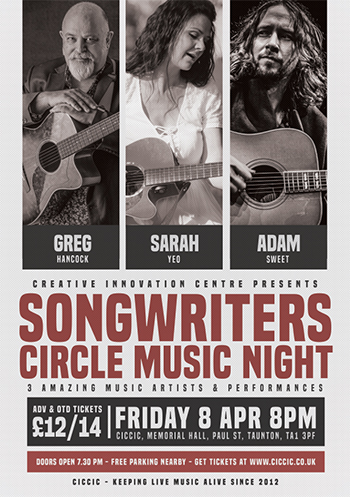 The format of this concert is becoming increasingly popular with audiences around the world. Three singer-songwriters take the stage together and take turns to introduce and perform a selection of their compositions. The format creates a comfortable, informal atmosphere that allows for interaction between the artists. Indeed, part of the enjoyment of this style of performance is that artists will often choose to perform something that then kicks off an artistic response from the other artists.
GREG HANCOCK, SARAH YEO, and ADAM SWEET are accomplished songwriters and performers who complement each other perfectly. Each has very different influences and approaches to song writing but they all share the passion for presenting stories and crystallised ideas and observations through the medium of song.
ABOUT THE ARTISTS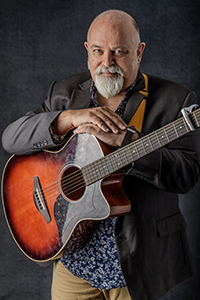 GREG HANCOCK
In recent years, Greg Hancock has established himself as one of the most original and intriguing singer-songwriters and guitarists on the UK scene. His songs deal with the oddities and profundiites of human life in the 21st century, but are also timeless. Greg deals with some of the most dark and poignant topics, but always with a with and humour that make his performances engaging and memorable. His unique finger-picking guitar style has evolved over many years with influences from folk, jazz, flamenco and pop.
His most recent album was nominated as a finalist in FATEA's Album of the Year listings, and he is regularly heard on music radio stations around the world.
An intoxicating musical and lyrical cocktail of Al Stewart and Ray Davies, infused with his own unique brilliance as a guitarist and songwriter Mike Davies, FOLKING .COM
"This is classic modern folk music at its very best, strong themes, insightful and topical writing with superb storytelling, instrumental excellence and one song had this reviewer in tears. … A303 is the finest folk album I have had the pleasure of listening to in years." BLUES & ROOTS RADIO
SARAH YEO
Multi faceted native Devonian artist Sarah Yeo has been making a impression on the Live music scene for at least two decades performing her way around many venues both large and small in the UK. In more recent years she has won fans performing across the pond in New York City and California. Likened to voices such as Karen Carpenter, the Corrs, Mary Chain Carpenter to name a few. Her versatility has made for a very interesting gigging past playing in various bands and as a soloist she has also gained endorsements from household names. Sarah has performed on festival stages around the country and is regularly featured on national radio shows.
Shane Richie "what a voice! "
Jim Marshall (founder of Marshall amps) named Sarah as his favourite Singer.
ADAM SWEET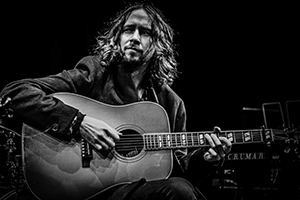 Independent blues rock guitarist and singer-songwriter Adam Sweet has marked his evolution into a fully-fledged blues-rock artist with his latest release Sink or Swim. With brooding ballads and rollicking rootsy rock he delivers honest tales of loss, longing, hope and strength in the face of adversity.
Taking his cue from the British blues boom sounds of Free and early Fleetwood Mac, married to the driving guitar style of Rory Gallagher and the sweet sounds of Little Feat and the Allman Brothers, Adam has spent the last decade carving out his own territory between classic rock, blues and Americana. Working in various guises: solo acoustic, session player and with his own band he has developed the consummate ability to switch from sensitive singer-songwriter to full-on blues rocker with ease, as demonstrated in his countless live performances and his output as a recording artist.
"Adam's gift is timeless, and his is the sort of voice you'll want to live with, the sort that'll only get deeper and stronger as the years wear on." – The Blues Magazine
"There is an honesty and integrity to Sweet's delivery that is very compelling and avoids obvious cliché. " FATEA MAGAZINE
Songwriters Circle Night - Doors 7.30pm


April 8, 2022




8:00 pm - 10:30 pm
We're sorry, but all tickets sales have ended because the event is expired.