Doors 7.30pm. Concert 8pm. Tickets £10 online or £12 OTD.
This is a special and rare concert of some of the best Americana Didgeriblues; played of course with cigar box guitar and didgeridoo. The music is s very unique blend of haunting hypnotic music with occasional vocals and will sound amazing in CICCIC's acoustic Victorian Hall.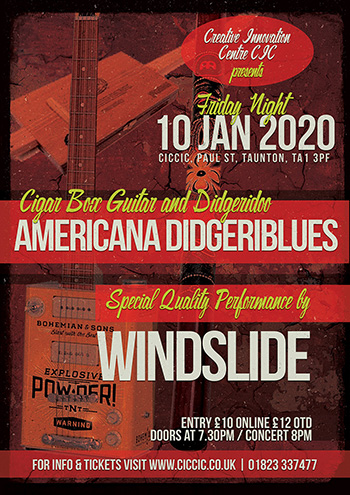 The band also love to interact with audiences so questions about the band and instruments are most welcome. A truly magical music experience not to be missed and ideal for Americana, Blues, slide guitar and alternative music lovers.
About Windslide
David Hill – Singer songwriter Blues Americana Slide Guitarist.
In the past David has worked alongside Martin Barr from Jethro Tull also various members of Fairport Convention and Hawkwind.
Also working as a session musician for Sound Ceremony Studios in London for three years in the late 80s.
David also builds and performs with his Cigar Box Guitars, running a Cigar Box Guitar building company in Devon called Hillbilly Guitars, est 2002. Building to date 470 CBGs, (Ronnie Wood of the Rolling Stones owns one). Sold here in the UK and worldwide.
David won the national UK songwriting competition in 2006 for a song called "Where All The Seeds Are Sown. The current title of the latest Windslide album.
He has also starred in a BBC short documentary about songwriting, performing live dates in the UK and New York. He has appeared in various interviews for magazines and newspapers about Hillbilly Guitars, from Devon Life to The Guardian. And recorded live sessions for BBC Radio Devon.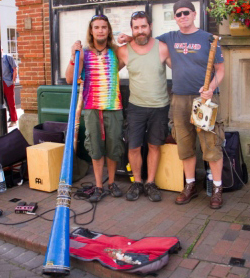 David Litster (Didge-Dave) – Didgeridoo Performer
Didge-Dave is a virtuoso Didgeridoo performer and co founder member of Windslide with Mick Voo. Sadly Mick passed away in 2015 but Mick recorded some of the loops the band still use today.
Didge-Dave has performed in Urban Tourist and various other bands over the years. A very well know figure in his local town of Exeter. He currently owns 26 Didgeridoos from all over the world and learned to play the Didgeridoo at 7 and does workshops and teaches the Didgeridoo.
Windslide


January 10, 2020




7:30 pm - 11:00 pm
We're sorry, but all tickets sales have ended because the event is expired.