The following art workshops are available for you to book at the Creative Innovation Centre Taunton starting in October. We have had to limit the classes to 10 people per session due to the social distancing guidelines however we have put on additional classes in order to accommodate as many people and their interests as we can .
ALL ART GROUP SESSIONS ARE MANAGED TO GOVERNMENT COVID GUIDELINES ON SOCIAL DISTANCING AND HEALTH AND SAFETY MEASURES
We do hope you find something that you like and look forward to seeing you at the arts centre in the near future.
TO BOOK on to a 10 week programme please see the workshop details below and the booking form at the end of this page.
Monday afternoons 1.30- 3pm – Art for Everyone by Debbi Sutton
'Art for everyone' is an art class set in a friendly, safe and secure environment with a specialist art tutor and assistants. These workshops are suitable for anyone who likes practicing art.
(People living with dementia and their carers can come for free.. If you are living with Dementia or a carer and interested in joining the group please email Debbi on: debbi@suttononsutton.com ).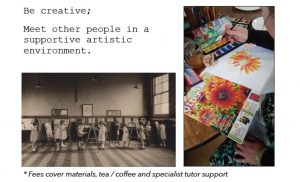 Debbi Sutton, artist and teacher, has 20 plus years' experience teaching at College and is an experienced carer.  She is enthusiastic, supportive and creates supportive learning environments in all her classes.
Creative Innovation Centre CIC is a local art centre with community at its heart, and is a creative and safe space for people with Dementia.
Monday evenings 7 -9 pm Life Drawing 
Life Drawing  : Tutor: Debbi Sutton
Suitable for all abilities Please bring materials
Debbi creates a vibrant artistic environment in her classes; bringing a breadth of experience to empower students of any level.  Why not come with a friend.
Whatever your ability, this class offers you the chance to improve through expert guidance.
Enjoyable, relaxed classes.
Individual instruction
Experienced teacher
Suitable for all abilities
Tuesday mornings 9.30-12.30 pm  – The Drawing Room  
An introductory course for beginners and experienced alike who want to improve they're drawing skills. Step by
step tuition of how to construct a competent drawing using different mediums, pencil, graphite, ink, charcoal etc. Every session includes an A4 'aide-memoir' to build into a ready reference folio.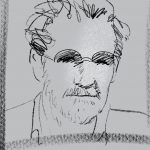 The course has been designed by Tony Girardot  a very experienced professional local artist and will involve a number of guest tutors who are specialist in different drawing and techniques. These will help you to explore new ways of looking and approaching drawing and build your own unique portfolio of skills and techniques.
Thursday mornings 9.30 – 12.30pm – Printmaking 
Explore 'Monoprint, Monotype, Linocut or Dry-point' and develop a range of innovative techniques, creating prints through the act of drawing.  These methods have been developed through the continual experimentations of artist and tutor Adam Grose (MA PGCE).
These methods of creativity form part of Adam's 'transferable skills project', enabling artists and learners to further develop their interdisciplinary skills set.
Compliment your portfolio to a high standard of professionalism, building confidence and discover and develop through your practice-based research and experimentation.
These sessions promote greater development, in-turn affording greater fluidity in your approach to your work and ideas through one to one tutorials and technical assistance, enabling time to explore your practice in greater detail.
Tutor: Adam Grose
Adam Grose is  a Master in Fine Art Contemporary Practice and a member of the RWA. An experienced tutor in exploring different print methods which allows the individual to develop his or her own style of printmaking. He runs his own Fine Art practice which he has recently been exploring the fragility of knowledge, entropy and how information from past cultures and generations can be lost over the passage of time.
Friday mornings 9.30-12.30pm Painting and Drawing 
These classes have been designed for individuals who wish to draw, paint and cultivate their creative skills, either for leisure or to update their professional practice. Each session is delivered by an experienced art tutor who will introduce the group to a variety of techniques and assorted visual vocabulary, and offer support in developing specific interests and aspirations. Each member of the group will be encouraged to progress within a stimulating, sympathetic and energising environment.
Painting and Drawing 
Through an innovative approach to learning this programme is based on a practical and experimental understanding of painting and drawing in its manifest possibilities. This entails such basics as observational studies, techniques, skills, methods and materials, and design and compositional understanding. We aspire to stimulate debate, identify interests and encourage originality.
Each class is delivered by Janet Glynn-Smith  who is a very experienced regional artist and talented tutor. Janet likes to develop a close working relationship with all her students so they feel empowered to break through their creative barriers to explore new horizons and unlock hidden dimensions within their work and creative applications.
Supported by:
Art Workshops at the CICCIC


September 28, 2020 - December 1, 2020




8:00 am - 1:00 am
We're sorry, but all tickets sales have ended because the event is expired.