Thursday July 25th 6.30pm-8.30pm.
Have ideas on what events and activities you would like to see at CICCIC or through our outreach programme in rural areas?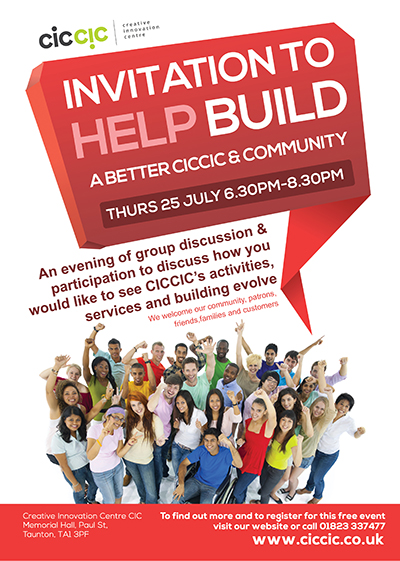 Our community, patrons, friends, families and customers are the lifeblood of what we do at CICCIC. We support all creative practice and love to see many people and community groups use our beautiful space, get involved in activities and experience the talent we support. But there is more we can do.
We would love to invite you for an evening of group discussion and participation to discuss how you would like to see CICCIC and its activities, services and building evolves. We will share useful information about how we can fund these developments as well as asking you to have a say in how things are designed and delivered.
We will be offering a free glass of wine for those who attend and we will be videoing those who wish to make their comments known to potential funders. We will finish off with some social networking and the bar/cafe will be open for those who wish to stay a little longer.
This is a free event but we ask if you can register beforehand, though not essential.
Community Ideas Event


July 25, 2019




6:30 pm - 8:30 pm
We're sorry, but all tickets sales have ended because the event is expired.