Doors open 7.30 pm – Concert 8 pm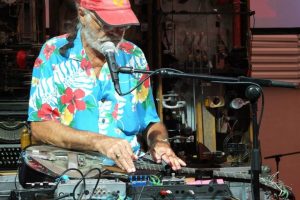 Tickets £10 on the door, £8 on line
Mike Cooper is an extra-ordinary musician and artist. For the past 50 years Mike plays lap steel guitar and sings, is an improviser and composer, song-maker, a film and video maker and radio arts producer, he is an international sound explorer constantly pushing the boundaries. Initially known as a blues artist and singer, one of the key figures in the blues revival in the 60s, he now tours the world with his multi-media performances and installations.
"Cooper stands out as the man who truly made something of his own out of
Country-Blues…" The Guardian
His shows mix blues, improvised songs, electronic improvisations, abstract sound and film and much more. Tonight Mike will be performing solo, accompanyinghis own short films and collaborating with local musicians. More at http://www.cooparia.com/
Support comes from sound sculptor and artist Michael Fairfax, playing his beautiful instrument hewn from wood and saxophonist/improviser Tim Hill
"Guitarist Mike Cooper is as responsible as anyone else — and more so than many — for ushering in the blues boom in the U.K. in the late '60s. His use of a '20s National Steel didn't hurt, but neither did his knowledge of the techniques of Fred McDowell and Blind BOy Fuller; or his rock-solid songwriting in both the folk and blues genres." -( All Music Guide – Thom Jurek.)
"Really can't think of many other 75 year old guitarists whose music still feels somehow relevant thru it's sheer, expressive abstraction nowadays. And this recording proves; Mike Cooper is pretty special." – Boomkat Review of Reluctant Swimmer/Virtual Surfer
Mike has, arguably, stretched the possibilities of that genre even more than his better known contemporaries Davy Graham, Bert Jansch, John Renbourne etc. by pursuing it into the more avant-garde musical areas occupied by guitar innovators such as Elliott Sharp, Keith Rowe, Fred Frith and Marc Ribot, with an eclectic mix of the many styles he has practiced over the years. Ranging freely through free improvisation, his own idiosyncratic original songs, electro-acoustic music, exotica, traditional country blues, folk, pop songs, and 'sonic gestural' playing utilising open tunings, extended guitar techniques and electronics. After a long time living in Rome, he currently resides in Valencia
 Influential British guitarist Mike Cooper is primarily regarded as a folk-blues guitarist and singer/songwriter, though his wide range of work cannot be so easily defined. He is also a celebrated improviser and electronic musician. In addition, he creates sound installations and radio art; he's a videographer, journalist, and music historian; and he performs scores for silent films
For the past 40 years Mike Cooper has been an international musical explorer, performing and recording, solo and in a number of inspired groupings and a variety of genres. Initially a folk-blues guitarist and singer songwriter his work has diversified to include improvised and electronic music, live music for silent films, radio art and sound installations. He is also a music journalist, writing features for magazines, particularly on Pacific music and musicians, a visual artist, film and video maker, collector of Hawaiian shirts and appears on more than 60 records to date
Hullabaloo with Mike Cooper


October 2, 2019




8:00 pm - 10:30 pm
We're sorry, but all tickets sales have ended because the event is expired.