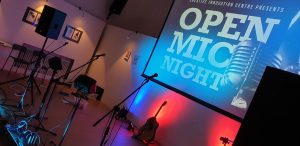 Doors open 7.30pm – music from 8pm – Free Entry
CICCIC's Open Mic Night welcomes you, the audience and performers to showcase ideas / pieces / songs / poems/ comedy theatre / music etc! Performers simply book a slot by using the form  below.
No entry fees for both audience and performers and you'd be amazed at the quality and diversity of acts. As one customer said "It like going out to a cabaret but its free".
CICCIC is a favourite for performers as the listening audience are seated facing the stage area.
Get yourself tuned up, try and learn your lines or lyrics,  get yourself stage ready for our open mic and a testing audience!

Whether you are a:
Performer
Writer
Individual or group
Poet
Comedian
Musician
Visual performer
Artist
Singer
Band
Etc.
…We welcome you to join in and test out your performance, talent and ideas to a live audience. Slots are expected to be between 10-15 minutes long and a PA and microphones are provided.
Admission is FREE to audiences (no ticket required) and there is a fully licensed bar. Starts 7.30pm to 11pm.
How to Book Your Performance Slot
To book a slot, please contact Steve at 07462 617642 or email at: guitarman234@hotmail.co.uk 
Showcase Open Mic Night


April 24, 2020




7:30 pm - 11:00 pm