As part of this month long Ukrainian Cultural showcase at the CICCIC, we are fortunate to have 10 exceptional Ukrainian artists showing their work as part of this collective exhibition.
The exhibition is open to the public at the Cafe/Gallery  3rd -27th May Wed- Sat 10-4pm  (except Fridays after 1pm).
The exhibition was the brainchild of a number of local hosts of Ukrainian guests, Caroline, Chris and Maeve, who  discovered there are many very talented artists among the group living in Somerset.  Over the past few months they  have gathered together a selection of paintings, embroidery and  photographs to showcase 10 artists. The exhibition includes a mixture of paintings, embroidery and photograph.
The artists showing are :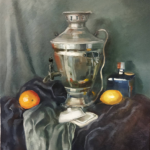 Miroslava Pavlyuchenko
Katia Kuljomza
Dana Moskalenko
Larisa Krokhmaliuk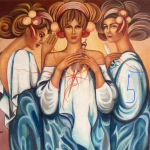 Mariya Borisova
Iryna Shmatova
Igor Gorbatenko
Yuliia Skybyk
Diana Miklushova
Kateryna Lebid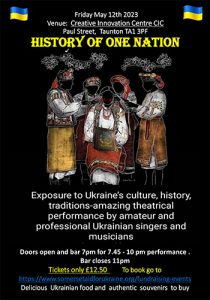 The month long showcase also includes the following events:
Ukrainian  Gala including dance, live music, individual performances sequenced to a film exploring the rich culture and  history of Ukraine on Friday 12th May
https://www.creativeinnovationcentre.co.uk/live-music/somerset-aid-for-ukraine-presents-history-of-one-nation-fri-12th-may/ 
Live streaming of the Euro-vision  contest staged in the UK on behalf of Ukraine. Saturday 13th May
https://www.creativeinnovationcentre.co.uk/film-documentaries/eurovision-song-contest-2023-screening-party-night-sat-13th-may/ 
May 3, 2023 - May 27, 2023




10:00 am - 4:00 pm