"Vitrified Memories" –  Gallery/Cafe open Wed – Sat 10-4pm except Friday after 1pm ,
There is a special Public Viewing evening on Wed 5th 6.30-9pm where you can meet the artists and learn more about the fascinating materials and processes involved in making these beautiful objects.  All Art lovers welcome.
The Kiln Formed Glass Club is a group of glass makers from all over the UK, who have been meeting up regularly at a glass studio in Ilminster  since 2015.
Recently we decided to explore what our work might look like if we took an artist's route to making, rather than our previous makers route, so started a journey which has taken us through emotional exploration, technical challenges and growth, both as people and artists. By exploring memories we uncovered a rich vein of creativity.
This exhibition represents our own individual journeys, some personal, some cultural, memories of place, loss, family, childhood, friendships, environment, trauma and love, that have made us who we are.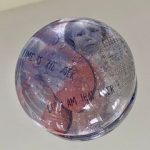 Our next challenge was to vitrify* these memories into works of art using our favoured medium. The resulting pieces are as diverse as the members of our group.
We hope that our exploration of memories will provoke some memories of your own and inspire you to record them too.
*convert into glass or glass like substance, typically by exposure to heat and fusion.
If travelling a long distance it is advisable to call the gallery as they do from time to time have the odd workshop event on . 01823 337 477
April 5, 2023 - April 29, 2023




10:00 am - 4:00 pm