It is with regret that this event has been cancelled due to circumstances out of our control. All tickets holders will be notified and refunded. We apologise for the inconvenience.
————————————
Doors 7.30pm. Start 8.15pm. Adv ticket £14. OTD ticket £18.
This event has been designated an 'excellence gig' by CICCIC, which defines the quality of the music and performance you will experience. A night guaranteed to be a memorable one.
John Verity is the man and musician who is 'blue to his soul' and one of the most consistent performers on the blues rock circuit for many years. Opening for Jimi Hendrix, Janis Joplin and others in the US then taking a somewhat different direction with his time as frontman with Argent. After time spent primarily in the studio recording and guesting with, among others, Ringo Starr, The Zombies and Saxon, John is now back on the road with his own band and experiencing a musical renaissance.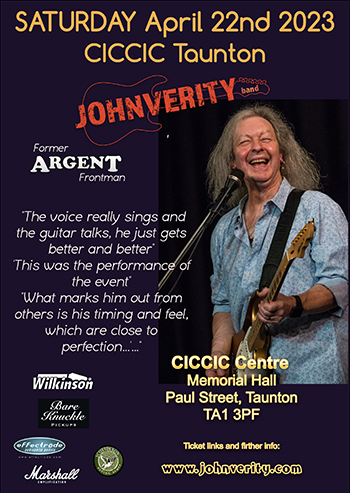 At the beginning of 2020 John and the band with Roger Inniss on bass and Liam James Gray on drums, embarked on 'The JV 50th Anniversary Tour and launched the latest album 'Passion'. Unfortunately this all came to a halt in March of the same year due to lockdown but now we have re-organised his appearance at CICCIC with his Good to Be Back Tour 2022!
Some audience comments from previous John Verity Band appearances:-
'Probably the best blues voice heard at this weekend's festival.'
'This was the performance of the event. John and the band smashed it out of the park!'
'And it would have always been difficult to follow the triumphant John Verity Band. He still has the mane of rock hair, still finds the high notes and still plays both rock and blues guitar with effortless panache.'
'You are left under no illusion that you are in the hands of a proper musician and vocalist. Go see him! '
'A hugely talented guitarist, a genuine rock legend, an engaging stage presence and a really, really tight and together band.'
'Watching The John Verity Band. Without doubt the very best blues trio I have ever heard. Can't wait to see them again real soon. Blues Rock as it should be played.'
And to conclude from John- 'Whatever I do is going to have a blues edge and I feel that this is the thread that ties it all together.'
Blues Rock Night with John Verity - Sat 22nd April


April 22, 2023




8:15 pm - 10:30 pm