An introductory course for beginners and experienced alike who want to improve they're drawing skills. Step by step tuition of how to construct a competent drawing using different mediums, pencil, graphite, ink, charcoal etc. Every session includes an A4 'aide-memoir' to build into a ready reference folio.
Tony has provided the following supportive worksheets and links to help you with your drawing during lock-down:  Updated 15.07.2020
This is a link to 45mins of David Hockney's first try at drawing 'digitally' in 1986. It's called 'drawing with light' and uses a Quantel Paintbox Graphics System.  It's interesting to see the process and hear his comments. https://youtu.be/b-JpI4egl2o
The following YouTube vids are of my old tutor John Raynes A.R.C.A.  R.I. drawing the skull and head.
The following PDF's give some guidance on the use and development of a sketchbook and drawing exercises :
Enjoy
Tony Girardot is a very experienced professional artist with many accreditation's who will help you to explore new ways of looking and approaching drawing. He has exhibited widely and has a friendly and insightful nature bringing you an accessible style to his tutoring.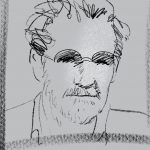 May 5, 2020 - September 2, 2020




8:00 am - 5:00 pm